por
Lisa Chamoff
, Contributing Reporter | September 16, 2019
From the September 2019 issue of HealthCare Business News magazine
Another indication-specific software module for treatment planning, Elements Cranial SRS, was also updated to allow for consistent and rapid volumetric modulated arc therapy (VMAT) plan generation.
"In particular, our Cranial SRS software has the option to limit modulation and complexity of treatment, rapidly generating plans that are more efficient, and that are faster and easier to deliver," Murphy said. "It automatically selects the table and gantry angles using a 4-Pi arc angle optimization"

Midmark Workstations are made to order with customization that can assist with the integration of telehealth and other technology at the point of care, wherever that may be. See more>>>

Brainlab Elements Spine SRS was also updated. It utilizes unique algorithms developed for spine curvature correction that distinguish soft tissue from bony anatomy, and for automated Clinical Target Volume (CTV) definition, automatically applying International Spine Radiosurgery Consortium consensus guidelines for spine radiosurgery that make it easier to contour consistently and avoid potential errors during plan creation.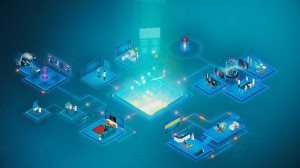 Elekta
In December 2018, Elekta received FDA 510(k) clearance for its Elekta Unity MR-linac, a high-field magnetic resonance radiation therapy system, which allows clinicians to see and track soft tissue during radiotherapy treatment.
On the software side, Elekta will also showcase its MOSAIQ Plaza, a "formal ecosystem of applications" built around its MOSAIQ oncology information system, and that works seamlessly with Elekta's radiotherapy solutions, said Sukhveer Singh, president of oncology informatics solutions at Elekta.
MOSAIQ Plaza includes Elekta's own SmartClinic, which enables process visualization and automated, streamlined care coordination, and Care Collaboration, which supports tumor boards and multidisciplinary meetings with cross-specialty data visualization; Monaco HD treatment planning software; IBM Watson for Oncology, which provides data-driven decision support; and voice automation using Palabra's voice recognition technology and customizable templates for patient notes.
"The traditional EMRs are designed to be transactional while the value-based oncology needs more evidence-driven and workflow-oriented solutions," Singh said. "MOSAIQ Plaza enables value-based oncology with a portfolio of apps that seamlessly integrate with MOSAIQ as the single source of truth."