por
Lisa Chamoff
, Contributing Reporter | September 16, 2019
From the September 2019 issue of HealthCare Business News magazine
"It requires high-speed collimation," Lawson said. The collimation system is able to quickly adjust the beam to keep pace with rapidly moving tumors like those in the lung, liver, or pancreas. Others in the industry are not capable of keeping up with a rapid respiration rate. This is very unique to Accuray."
Phantom studies have been conducted at the University of Wisconsin-Madison. The technology has been installed at a second customer site, Froedtert & the Medical College of Wisconsin, which plans to treat the first patient using Synchrony with Radixact in the very near future.

Midmark Workstations are made to order with customization that can assist with the integration of telehealth and other technology at the point of care, wherever that may be. See more>>>

The company plans on broadly rolling out the technology at the end of the year.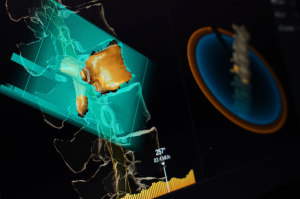 Brainlab
At ASTRO, Brainlab will be showcasing a new version of its ExacTrac Patient Position Monitoring system. Called ExacTrac Dynamic, it is a solution for precision radiotherapy positioning and monitoring that can accommodate a wide range of linacs and clinical workflows. It is not yet FDA cleared.
"Customers are currently buying two or three different systems for patient monitoring," said Patrick Murphy, director of the oncology portfolio at Brainlab. "Now you can have one system for cranial radiosurgery that includes surface tracking technology for a wide range of radiotherapy indications. ExacTrac Dynamic uses surface tracking together with thermal imaging, making surface tracking much more robust, and combines it with integrated X-Ray imaging at any couch position during treatment."
Clinicians can enable more precision by integrating ExacTrac with the Brainlab Elements treatment planning software, Murphy said.
"By using our Elements software together with ExacTrac, we can potentially treat with much smaller margins, because we're monitoring the patient so closely during treatment," Murphy said. "Our customers know that by using ExacTrac they can confidently monitor their patients using sub millimetric precision under 1 millimeter, at any couch position, even while the beam is on."
Earlier this year, the company released an update to its Elements Multiple Brain Mets SRS treatment planning software, which has already been used to treat more than 3,000 patients worldwide using the single isocenter technique. Algorithms that are part of the software are designed to guarantee target coverage and minimize dose to healthy tissue, regardless of user experience. The company also integrated its Monte Carlo dose calculation algorithm into the software.