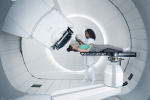 What's new in radiation and proton therapy
September 16, 2019
by
Lisa Chamoff
, Contributing Reporter
Cancer treatment is getting faster and more precise, with the future promising to usher in ultra-high, cancer-killing radiation dose in less than a second. In the here and now, manufacturers of proton therapy and conventional radiation oncology treatment systems are continuing to increase speed and precision in an effort to create the best outcomes.

Here's what's new in both proton therapy and radiation oncology.

Proton therapy

Hitachi Proton
Treatment has begun at two proton therapy centers in Japan: the Osaka Heavy Ion Therapy Center, which began operating in October 2018, and the Nagamori Memorial Center of Innovative Cancer Therapy and Research in Kyoto, which opened for treatment in April 2019.

The site in Osaka, which has three treatment rooms, is the first heavy ion therapy center designed to be dedicated for dose-driven continuous scanning technology. It is one of only a few locations in the world to offer the advanced form of particle therapy, which uses more energy in the tumor tissue, which can be more destructive to the tumors, can treat radioresistant cells, and requires fewer treatment sessions.

The site in Kyoto includes real-time image gating motion management technology, which allows treatment of tumors during patient motion, according to the company. This technology received FDA 510(K) clearance in December 2017.

In June 2018, Hitachi acquired Mitsubishi Electric Corporation's particle therapy division.

"With the addition of Mitsubishi, we have added 7 proton centers and 4 carbon centers to our user group. We are extremely happy with the progress of our synergies and hope to see more growth in the near future" said Sash Matsumoto, general manager at Hitachi America Ltd.

IBA
IBA, which has roughly 30 proton therapy systems in clinical operation around the world, is working on developing a new motion management technology that is a mix of beam management and image guidance to freeze moving targets.

"The tumor in the lung that moves as a patient is breathing — that's what motion management will address," said Frédéric Genin, chief product officer for proton therapy at IBA.

It is also working with a partner in Royal Oak, Michigan, to develop arc proton therapy, delivering the beam continuously as the gantry is rotating.

"In classic proton therapy you deliver the beam from two to up to four angles," Genin said. "Arc proton therapy has three advantages. It improves the throughput of the facility, simplifies the treatment workflow and has the potential to improve clinical outcomes for specific cases."

The company has also successfully demonstrated that its ProteusONE and ProteusPLUS are able to deliver Flash irradiation, which delivers high doses of protons at ultra-high speeds in less than one second, potentially reducing toxicity in healthy tissue. The company has launched an advisory board to help with adoption.

"There's a lot of research to be done and IBA is committed to fill that gap," Genin said.

Mevion
Since last year, two proton therapy centers with Mevion HYPERSCAN technology have come online clinically — the University of Oklahoma Stephenson Cancer Center and Maastro, formerly the ZON Proton Therapy Centre at Maastro Clinic, in the Netherlands.

The company worked with RaySearch on new RayStation capabilities to enhance Adaptive Aperture.

"Now it can shape apertures at any energy level with more conformality," said Michael Tajima, senior director of marketing at Mevion.

The company is also launching a new ceiling-mounted cone beam CT, which is now clinically available in Europe and soon to be FDA approved, developed by the company medPhoton, and it is going to be installing a new Siemens CT on rails at Barnes-Jewish Hospital in St. Louis.

For patient positioning, the company is integrating the C-RAD Catalyst system for both surface tracking and gating. It is also working to validate three new couch tops and launch them this year.

"We're excited to be providing a suite of new (image-guided radiation therapy) solutions," Tajima said. "We're really trying to leverage the best in the field."

P-Cure
In July 2019, proton therapy company P-Cure, which markets a gantry-less solution that reduces the installation costs of a proton therapy center, announced that it had completed a $15 million series B funding round led by Hong Kong-based Popular Line Medical Group Limited.

The financing will help expand P-Cure's development center and production capacity in Israel, according to the company. The company plans to establish a training and services center for doctors, physicists, and technicians in its new research and development center in Shilat.

"Completion of the financing round will enable us to make the smart medical solution we have developed accessible to any oncological center that offers radiotherapy," said P-Cure Chief Executive Officer Michael Marash. "This will eventually enable every cancer patient to obtain the best treatment in the field."

P-Cure's system is in use at the Northwestern Medical Chicago Proton Center. The company is supplying its system to medical centers in the U.K. and China, and is negotiating with other cancer treatment centers and research institutes in Israel and around the world.

ProTom International
ProTom International has been working with its proton therapy partners to make updates to its products.

"You're always looking at ways you can improve your product," said Stephen Spotts, chief executive officer of ProTom International. "A lot of what we work on is behind the walls, so to speak."

At an installation at Massachusetts General Hospital, where patient treatment is starting soon, the company is working on a new workflow-driven user interface that is fully integrated into the facility's own oncology information system called WhiteBoard. The center will also have a fully integrated couch-mounted cone beam CT with an automatic patient positioner.

"With the cone beam CT mounted on couch and robotic patient positioner you're not moving the patient from the imaging to treatment position," Spotts said.

The company is also moving forward with a new center, the Australian Bragg Centre for Proton Therapy in Adelaide, where there will be a new gantry design.

"We decided some while ago, because of our beam line and what we wanted to accomplish with our system, we needed to design our own proprietary gantry," Spotts said. "The new gantry design dramatically reduces the reliance on the building accuracy. Things are never perfect. The floor is never completely flat. This design is built so that the reliance on the accuracy of the building is as close to zero as possible. The gantry that we have used in the past is wall-mounted. There are in-bed plates built into the building. This will be sitting on the floor with pedestals that are completely adjustable."

The company is also working on updating its scanning nozzle to give it a larger field of view and treatment volume, with a less intrusive nozzle design.

Varian
In October, Varian introduced its ProBeam 360° proton therapy system. With a 30 percent smaller footprint than the previous system, the system increases the affordability of proton therapy by reducing vault construction costs by approximately 25 percent and cutting the construction time to 10 months from about two years, said Chris Toth, president of Varian's Oncology Systems business.

The ProBeam 360° system also provides customers with a pathway to potential future treatment advancements, such as Flash therapy.

"We look at this as a 2020 way of how we personalize every radiation therapy treatment," Toth said. "What we may have unlocked is therapy that can kill the cancerous tissue and miss the healthy tissue. It could mean a completely noninvasive treatment. There is a lot of work to do to go from preclinical to clinical, but we have not seen an innovation like this in a lifetime."

Radiation therapy

Accuray
Accuray has continued to refine the treatment planning optimizer for the CyberKnife robotic radiation therapy system.

The CyberKnife VOLO optimizer simplifies the process of creating treatment plans for the radiation therapy system using a new optimization algorithm, reducing both planning and delivery time, and increasing plan quality.

"The algorithm calculates treatment plans very quickly while also considering how the robot more efficiently navigates to deliver the required dose," said Corey Lawson, vice president of product strategy at Accuray.

Lawson said clinicians are experiencing up to a 90 percent reduction in planning time and up to 50 percent faster delivery time.

"CMS is now reimbursing based on value of care," Lawson said. "If you can treat a patient with fewer fractions while improving the quality of treatment … that is a winning combination in this new healthcare environment."

Accuray also launched the Synchrony motion tracking and correction technology for the Radixact system.

"It allows you to efficiently keep beam on at all times, targeting the tumor throughout its full range of motion. This allows clinicians to also tighten margins around the tumor, which results in the sparing of normal, healthy tissue from radiation," Lawson said, noting that it is a technology unique to Accuray.

"It requires high-speed collimation," Lawson said. The collimation system is able to quickly adjust the beam to keep pace with rapidly moving tumors like those in the lung, liver, or pancreas. Others in the industry are not capable of keeping up with a rapid respiration rate. This is very unique to Accuray."

Phantom studies have been conducted at the University of Wisconsin-Madison. The technology has been installed at a second customer site, Froedtert & the Medical College of Wisconsin, which plans to treat the first patient using Synchrony with Radixact in the very near future.

The company plans on broadly rolling out the technology at the end of the year.

Brainlab
At ASTRO, Brainlab will be showcasing a new version of its ExacTrac Patient Position Monitoring system. Called ExacTrac Dynamic, it is a solution for precision radiotherapy positioning and monitoring that can accommodate a wide range of linacs and clinical workflows. It is not yet FDA cleared.

"Customers are currently buying two or three different systems for patient monitoring," said Patrick Murphy, director of the oncology portfolio at Brainlab. "Now you can have one system for cranial radiosurgery that includes surface tracking technology for a wide range of radiotherapy indications. ExacTrac Dynamic uses surface tracking together with thermal imaging, making surface tracking much more robust, and combines it with integrated X-Ray imaging at any couch position during treatment."

Clinicians can enable more precision by integrating ExacTrac with the Brainlab Elements treatment planning software, Murphy said.

"By using our Elements software together with ExacTrac, we can potentially treat with much smaller margins, because we're monitoring the patient so closely during treatment," Murphy said. "Our customers know that by using ExacTrac they can confidently monitor their patients using sub millimetric precision under 1 millimeter, at any couch position, even while the beam is on."

Earlier this year, the company released an update to its Elements Multiple Brain Mets SRS treatment planning software, which has already been used to treat more than 3,000 patients worldwide using the single isocenter technique. Algorithms that are part of the software are designed to guarantee target coverage and minimize dose to healthy tissue, regardless of user experience. The company also integrated its Monte Carlo dose calculation algorithm into the software.

Another indication-specific software module for treatment planning, Elements Cranial SRS, was also updated to allow for consistent and rapid volumetric modulated arc therapy (VMAT) plan generation.

"In particular, our Cranial SRS software has the option to limit modulation and complexity of treatment, rapidly generating plans that are more efficient, and that are faster and easier to deliver," Murphy said. "It automatically selects the table and gantry angles using a 4-Pi arc angle optimization"

Brainlab Elements Spine SRS was also updated. It utilizes unique algorithms developed for spine curvature correction that distinguish soft tissue from bony anatomy, and for automated Clinical Target Volume (CTV) definition, automatically applying International Spine Radiosurgery Consortium consensus guidelines for spine radiosurgery that make it easier to contour consistently and avoid potential errors during plan creation.

Elekta
In December 2018, Elekta received FDA 510(k) clearance for its Elekta Unity MR-linac, a high-field magnetic resonance radiation therapy system, which allows clinicians to see and track soft tissue during radiotherapy treatment.

On the software side, Elekta will also showcase its MOSAIQ Plaza, a "formal ecosystem of applications" built around its MOSAIQ oncology information system, and that works seamlessly with Elekta's radiotherapy solutions, said Sukhveer Singh, president of oncology informatics solutions at Elekta.

MOSAIQ Plaza includes Elekta's own SmartClinic, which enables process visualization and automated, streamlined care coordination, and Care Collaboration, which supports tumor boards and multidisciplinary meetings with cross-specialty data visualization; Monaco HD treatment planning software; IBM Watson for Oncology, which provides data-driven decision support; and voice automation using Palabra's voice recognition technology and customizable templates for patient notes.

"The traditional EMRs are designed to be transactional while the value-based oncology needs more evidence-driven and workflow-oriented solutions," Singh said. "MOSAIQ Plaza enables value-based oncology with a portfolio of apps that seamlessly integrate with MOSAIQ as the single source of truth."

RaySearch
The company is building on its RayStation treatment planning system and RayCare oncology information system with a treatment control system called RayCommand.

The new system is designed to link RayStation and RayCare and coordinate activities in and between treatment rooms to maximize resource utilization and treatment accuracy. The product is about two years from being released, said Bjorn Hårdemark, deputy chief executive officer of RaySearch.

RayCommand will also lead the way for online adaptive radiation treatments, Hårdemark said.

"Clinical practice today is to make a plan for the way a patient looks several days before the first day of treatment, and deliver that same plan over several weeks. To deal with patient and tumor changes, oncologists use margins," Hårdemark said. "The most modern way to deal with anatomical changes it is online adaptive therapy. We have the software technology to achieve this, but we haven't connected that to any treatment room yet. With RayCommand, we could."

RayCommand would also be vendor neutral.

"Varian and Elekta and ViewRay are also working in that direction for their respective systems, but we can do it for any system," Hårdemark said.

In December of 2018, the company added two machine learning systems to RayStation. One is used for patient segmentation. In the U.S., the company was FDA-cleared for using machine learning to define where the healthy organs are. In other markets, the technology was cleared to find where the tumor is.

Machine learning is also used for planning.

"It learns from previous examples what a dose distribution looks like for particular patients," Hårdemark said.

Varian
In October 2018, Varian unveiled its Bravos afterloader system for brachytherapy treatments, which delivers radiation via tiny radioactive source placed directly into the tumor. The new device improves workflow with a touchscreen that includes patient and treatment information and a customizable pre-treatment checklist, and LED lights to guide clinicians through the correct connection process of the transfer guide tubes.

"They ensure the right dose is given at the right place, at the right time," said Chris Toth, president of Varian's Oncology Systems business.

In April, the company announced it was forming the Adaptive Intelligence Consortium to research and move forward AI-driven multimodality adaptive radiotherapy treatments.

Also this year, Varian acquired Cancer Treatment Services International.
The acquisition includes the American Oncology Institute in Hyderabad and 10 multidisciplinary cancer centers across India as well as a U.S.-based Oncology Solutions division that provides cancer care professional services to healthcare providers worldwide.

"It gives the company unique access to global cancer data," Toth said.

ViewRay
In February 2019, ViewRay received FDA 510(k) clearance to market the new soft tissue visualization capabilities for its MRIdian Linac system, which combines a linear accelerator with an MR scanner, was cleared by the FDA in February 2017, and has treated approximately 5,000 patients.

Called SmartVISION, the technology doubles the frame rate of the MR from four frames per second to 8 frames per second.

"Essentially what this does is it gives you better tracking capabilities and more disease-specific imaging capabilities," said Michael Saracen, vice president of clinical marketing at ViewRay.

There is also expanded high-definition visualization and enhanced contrast between different tissues, to assist clinicians with tissue visualization and beam contouring, a diffusion-weighted imaging feature that tracks treatment progress by distinguishing between tumor and normal tissues, and enhanced MLC speed to potentially reduce treatment time.

"The SmartVISION helps [clinicians] to do what they are doing, better," Saracen said.

Zap Surgical
The company received FDA clearance in OCTOBER 2017 for its Zap-X stereotactic radiosurgery system. In January of this year it was used for the first time to treat patients at Barrow Brain and Spine in Phoenix. A second installation in Beijing is almost complete. The company is close to applying for a CE mark.

The Zap-X platform has a self-shielding technology, which makes a costly cement radiation vault unnecessary, as well as real-time dosimetry.

"One of the ZAP-X's major attributes is that it allows us to site radiosurgery where the patients are, such as ambulatory surgery centers," said John Adler, chief executive officer of Zap Surgical. "The idea is to take radiosurgery out of the basement and make it much more available in the world today. Radiosurgery requires what is arguably the most complex tech in all of healthcare. We are trying to remedy that by making a simpler-to-use machine, which at the same time, is also safer."