por
Lisa Chamoff
, Contributing Reporter | September 16, 2019
From the September 2019 issue of HealthCare Business News magazine
"They ensure the right dose is given at the right place, at the right time," said Chris Toth, president of Varian's Oncology Systems business.
In April, the company announced it was forming the Adaptive Intelligence Consortium to research and move forward AI-driven multimodality adaptive radiotherapy treatments.

Special-Pricing Available on Medical Displays, Patient Monitors, Recorders, Printers, Media, Ultrasound Machines, and Cameras.This includes Top Brands such as SONY, BARCO, NDS, NEC, LG, EDAN, EIZO, ELO, FSN, PANASONIC, MITSUBISHI, OLYMPUS, & WIDE.

Also this year, Varian acquired Cancer Treatment Services International.
The acquisition includes the American Oncology Institute in Hyderabad and 10 multidisciplinary cancer centers across India as well as a U.S.-based Oncology Solutions division that provides cancer care professional services to healthcare providers worldwide.
"It gives the company unique access to global cancer data," Toth said.
ViewRay
In February 2019, ViewRay received FDA 510(k) clearance to market the new soft tissue visualization capabilities for its MRIdian Linac system, which combines a linear accelerator with an MR scanner, was cleared by the FDA in February 2017, and has treated approximately 5,000 patients.
Called SmartVISION, the technology doubles the frame rate of the MR from four frames per second to 8 frames per second.
"Essentially what this does is it gives you better tracking capabilities and more disease-specific imaging capabilities," said Michael Saracen, vice president of clinical marketing at ViewRay.
There is also expanded high-definition visualization and enhanced contrast between different tissues, to assist clinicians with tissue visualization and beam contouring, a diffusion-weighted imaging feature that tracks treatment progress by distinguishing between tumor and normal tissues, and enhanced MLC speed to potentially reduce treatment time.
"The SmartVISION helps [clinicians] to do what they are doing, better," Saracen said.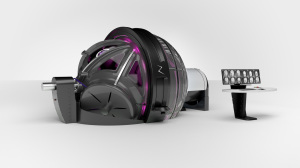 Zap Surgical
The company received FDA clearance in OCTOBER 2017 for its Zap-X stereotactic radiosurgery system. In January of this year it was used for the first time to treat patients at Barrow Brain and Spine in Phoenix. A second installation in Beijing is almost complete. The company is close to applying for a CE mark.