por
Lisa Chamoff
, Contributing Reporter | September 16, 2019
From the September 2019 issue of HealthCare Business News magazine
In October, Varian introduced its ProBeam 360° proton therapy system. With a 30 percent smaller footprint than the previous system, the system increases the affordability of proton therapy by reducing vault construction costs by approximately 25 percent and cutting the construction time to 10 months from about two years, said Chris Toth, president of Varian's Oncology Systems business.
The ProBeam 360° system also provides customers with a pathway to potential future treatment advancements, such as Flash therapy.
"We look at this as a 2020 way of how we personalize every radiation therapy treatment," Toth said. "What we may have unlocked is therapy that can kill the cancerous tissue and miss the healthy tissue. It could mean a completely noninvasive treatment. There is a lot of work to do to go from preclinical to clinical, but we have not seen an innovation like this in a lifetime."

Universal Medical provides the very best new & refurbished gamma cameras, quality parts & repair services. We also rebuild & replace camera detectors, move camera systems across town or across the country. Call us at 888-239-3510

Radiation therapy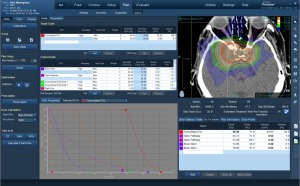 Accuray
Accuray has continued to refine the treatment planning optimizer for the CyberKnife robotic radiation therapy system.
The CyberKnife VOLO optimizer simplifies the process of creating treatment plans for the radiation therapy system using a new optimization algorithm, reducing both planning and delivery time, and increasing plan quality.
"The algorithm calculates treatment plans very quickly while also considering how the robot more efficiently navigates to deliver the required dose," said Corey Lawson, vice president of product strategy at Accuray.
Lawson said clinicians are experiencing up to a 90 percent reduction in planning time and up to 50 percent faster delivery time.
"CMS is now reimbursing based on value of care," Lawson said. "If you can treat a patient with fewer fractions while improving the quality of treatment … that is a winning combination in this new healthcare environment."
Accuray also launched the Synchrony motion tracking and correction technology for the Radixact system.
"It allows you to efficiently keep beam on at all times, targeting the tumor throughout its full range of motion. This allows clinicians to also tighten margins around the tumor, which results in the sparing of normal, healthy tissue from radiation," Lawson said, noting that it is a technology unique to Accuray.