por
Lisa Chamoff
, Contributing Reporter | September 16, 2019
From the September 2019 issue of HealthCare Business News magazine
The company has also successfully demonstrated that its ProteusONE and ProteusPLUS are able to deliver Flash irradiation, which delivers high doses of protons at ultra-high speeds in less than one second, potentially reducing toxicity in healthy tissue. The company has launched an advisory board to help with adoption.
"There's a lot of research to be done and IBA is committed to fill that gap," Genin said.

Special-Pricing Available on Medical Displays, Patient Monitors, Recorders, Printers, Media, Ultrasound Machines, and Cameras.This includes Top Brands such as SONY, BARCO, NDS, NEC, LG, EDAN, EIZO, ELO, FSN, PANASONIC, MITSUBISHI, OLYMPUS, & WIDE.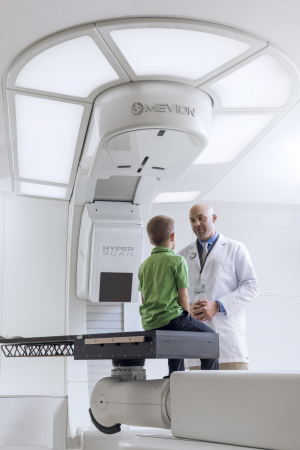 Mevion
Since last year, two proton therapy centers with Mevion HYPERSCAN technology have come online clinically — the University of Oklahoma Stephenson Cancer Center and Maastro, formerly the ZON Proton Therapy Centre at Maastro Clinic, in the Netherlands.
The company worked with RaySearch on new RayStation capabilities to enhance Adaptive Aperture.
"Now it can shape apertures at any energy level with more conformality," said Michael Tajima, senior director of marketing at Mevion.
The company is also launching a new ceiling-mounted cone beam CT, which is now clinically available in Europe and soon to be FDA approved, developed by the company medPhoton, and it is going to be installing a new Siemens CT on rails at Barnes-Jewish Hospital in St. Louis.
For patient positioning, the company is integrating the C-RAD Catalyst system for both surface tracking and gating. It is also working to validate three new couch tops and launch them this year.
"We're excited to be providing a suite of new (image-guided radiation therapy) solutions," Tajima said. "We're really trying to leverage the best in the field."
P-Cure
In July 2019, proton therapy company P-Cure, which markets a gantry-less solution that reduces the installation costs of a proton therapy center, announced that it had completed a $15 million series B funding round led by Hong Kong-based Popular Line Medical Group Limited.
The financing will help expand P-Cure's development center and production capacity in Israel, according to the company. The company plans to establish a training and services center for doctors, physicists, and technicians in its new research and development center in Shilat.
"Completion of the financing round will enable us to make the smart medical solution we have developed accessible to any oncological center that offers radiotherapy," said P-Cure Chief Executive Officer Michael Marash. "This will eventually enable every cancer patient to obtain the best treatment in the field."