por
Lisa Chamoff
, Contributing Reporter | May 27, 2019
From the May 2019 issue of HealthCare Business News magazine
As IDNs are growing, there is more space needed to store servers. Hospitals also have to update these servers and, if they want a new application, they need to coordinate shipment of the new server and rack it.
"With NK-HiQ Enterprise Gateway, all of the applications are loaded and they only activate whatever they want," Dharwad said. "It reduces time. If they had licensed HL7 to get information to the EMR and wanted to add the pager application, then it's a matter of us remotely logging in and turning it on versus coordinating with hospital IT to coordinate shipment."

Quest Imaging Solutions provides all major brands of surgical c-arms (new and refurbished) and carries a large inventory for purchase or rent. With over 20 years in the medical equipment business we can help you fulfill your equipment needs

Hospitals were also reluctant to provide additional space in their data rooms, as the HL7 application on Nihon Kohden's previous system required one server for every 150 beds. The Enterprise Gateway manages 2,000 beds.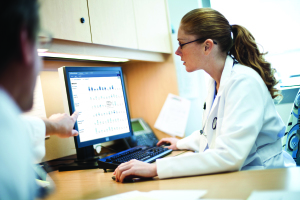 Philips
Over the past 12 months, Philips has released several patient monitoring solutions that include predictive analytics, AI, machine learning and genomics sequencing.
The new releases include Philips IntelliSpace Epidemiology, a decision-support solution that combines clinical informatics and genomic sequencing information to help identify healthcare associated infections, and the IntelliVue Guardian Software App, which delivers real-time access to patient deterioration information to mobile devices.
"One of the big themes we see for the future of patient monitoring is remote enablement," said James Caffrey, leader of strategic projects and ventures for monitoring and analytics at Philips. "Patient monitoring is far more sophisticated than ever before, with a clinical ecosystem enabled by connected digital technology. Remote enablement allows for timely and comprehensive status and statistics checks across the patient monitoring clinical network. Through application performance management tools, remote enablement provides biomed and IT specialists with actionable insights for improved overall fault diagnosis and troubleshooting, and encourages a secure medical device environment through standardization and device inventory, and continuous improvement through benchmarking and new business models. In high-cost environments like the intensive care unit, this maximized uptime can be critical to improving overall productivity of the unit."