It's no secret that hospitals are overloaded with data, at a time when the clinician-to-patient ratio has been shrinking.
Patient monitor manufacturers are responding by improving workflows and the user interfaces on their products – think touchscreens – while moving into remote monitoring and EHR integration.
Here's a look at what's new from some of the leading patient monitor manufacturers.
Amplion
In the last year, Amplion has rolled out updates to its CareAssurance Nurse Call product that included advanced analytics around total care time.
RTLS systems generally measure the time each caregiver is in the room, said Lee Clark, president and chief executive officer of Amplion. Using advanced algorithms, the Amplion system measures the total amount of time all caregivers are in the room.
"What we are able to do is correlate actual alarms to the time spend with the patient," Clark said. "In terms of patient care, it allows the facility to staff in terms of the acuity level of the patients."
Previously, with what looked like seven different visits to a patient over a 30-minute time period, the care delivered to patient actually took three minutes, Clark said. This information allows facilities to streamline processes and make them more efficient.
"We've re-engineered the analytics platform to make it more robust," Clark said. "We've been correlating data across teams, so it's not about the individual caregiver, it's about the care given to the patient. ... The data allows you to make staffing decision, adjust on the fly and it ultimately enables you to make sure the right care is delivered at the right time."
Amplion offers the advanced analytics to facilities through a subscription-based service.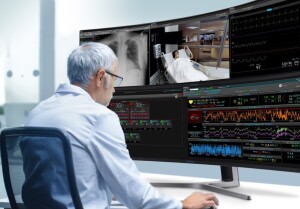 GE Healthcare
At HIMSS 2019, GE Healthcare launched two products that the company says addresses some of the major trends in patient monitoring, including reduced clinician to patient ratios in hospitals and variation in care delivery.
In the cardiac telemetry space, GE Healthcare's Digital Centralized Monitoring Unit (CMU) provides a scalable, intelligent, enterprise wide solution that digitizes manual processes to help drive patient vigilance. GE Healthcare's Digital CMU can improve clinician workflows around event notification, mobile visualization and care team collaboration to boost effectiveness and accelerate alarm-⁠to-⁠intervention response times.
Customers are requesting the ability to respond to patient alarms on their mobile devices and provide decision support capability, said Ajay Parkhe, General Manager of monitoring solutions for GE Healthcare.
GE Healthcare also launched Mural, a virtual care platform that prioritizes a clinician's attention to the most critical patient cases to help reduce time to intervention and digitizes established hospital-⁠defined care protocols to help reduce variation in care delivery. The Mural solution's customizable and modular design can
support various care models by bringing together patient monitoring and imaging data, EMR information and a patient video feed, along with near real-⁠time clinical decision support. The solution can be leveraged across a care area, hospital or an entire health system.
"Clinicians can determine which patients are high priority and more likely to need support. These tools help clinician effectiveness and allows the clinician to be at the right place at the right time," Parkhe said.
Infinium Medical
Last year, Infinium Medical began selling two new patient monitors in the U.S. One, the Omni (K), is a basic, five-parameter monitor that measures blood pressure, ECG with arrhythmia detection, motion tolerant SpO2, temperature, and respiration rate. With a high-resolution, 10.5-inch touch screen display, it is designed for outpatient centers.
The company's Omni III, for general floor or surgery suites, comes with a high-resolution, 15-inch touch screen display.
Both models can measure end-tidal CO2, anesthetic agent measurement, cardiac output and invasive blood pressure with added plug-in modules, said Suleyman Bilgutay, managing partner at Infinium Medical. Both models have an HL7 communications protocol and are compatible with most EMR systems.
Nihon Kohden
At HIMSS 2019, Nihon Kohden released the NK-HiQ Enterprise Gateway, which consolidates the company's patient monitor applications, such as a pager application that routes alarms to clinicians and an HL7 application that routes information to the EMR, onto one server.
"Previously, each of the seven different applications and extensions we provided to hospitals required its own server," said Harsh Dharwad, chief technology officer for Nihon Kohden. "That creates its own challenges."
As IDNs are growing, there is more space needed to store servers. Hospitals also have to update these servers and, if they want a new application, they need to coordinate shipment of the new server and rack it.
"With NK-HiQ Enterprise Gateway, all of the applications are loaded and they only activate whatever they want," Dharwad said. "It reduces time. If they had licensed HL7 to get information to the EMR and wanted to add the pager application, then it's a matter of us remotely logging in and turning it on versus coordinating with hospital IT to coordinate shipment."
Hospitals were also reluctant to provide additional space in their data rooms, as the HL7 application on Nihon Kohden's previous system required one server for every 150 beds. The Enterprise Gateway manages 2,000 beds.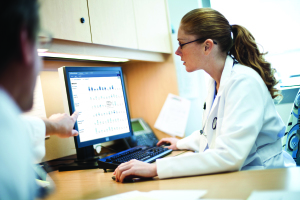 Philips
Over the past 12 months, Philips has released several patient monitoring solutions that include predictive analytics, AI, machine learning and genomics sequencing.
The new releases include Philips IntelliSpace Epidemiology, a decision-support solution that combines clinical informatics and genomic sequencing information to help identify healthcare associated infections, and the IntelliVue Guardian Software App, which delivers real-time access to patient deterioration information to mobile devices.
"One of the big themes we see for the future of patient monitoring is remote enablement," said James Caffrey, leader of strategic projects and ventures for monitoring and analytics at Philips. "Patient monitoring is far more sophisticated than ever before, with a clinical ecosystem enabled by connected digital technology. Remote enablement allows for timely and comprehensive status and statistics checks across the patient monitoring clinical network. Through application performance management tools, remote enablement provides biomed and IT specialists with actionable insights for improved overall fault diagnosis and troubleshooting, and encourages a secure medical device environment through standardization and device inventory, and continuous improvement through benchmarking and new business models. In high-cost environments like the intensive care unit, this maximized uptime can be critical to improving overall productivity of the unit."
The Philips' PIC iX critical care solution is what the company calls a "smart intelligent platform representing the ICU of the future" to manage patient transitions and reduce nuisance alarms.
"As we look ahead, combining artificial intelligence with remote enablement can help predict potential issues before they occur," Caffrey said. "This especially holds true for large health systems that have multiple networked devices that make up the patient monitoring system.
And as the threat of cyberattacks continues to grow, visibility into device inventory and the operational status of devices on the clinical network can help identify vulnerabilities early on."
The PerformanceBridge Focal Point is a management system that provides enhanced visibility into patient monitoring devices and network equipment for biomedical and IT staff.
"Large-scale IDNs typically house more than 1,000 servers as part of their network, making the task of keeping current with monthly operating system updates a challenge," Caffrey said. "The ability to remotely update all devices saves time and helps ensure that a patient monitoring system is as safeguarded as possible against potential threats."