por
Lisa Chamoff
, Contributing Reporter | November 23, 2020
From the November 2020 issue of HealthCare Business News magazine
The detector features the X-Factor, which means it can be shared with other DRX Systems that do long-length imaging. Customers can purchase a portable cart to move it from room to room or mount it to a wall.
The company also released the Focus 43C (43x43 cm) wireless detector, a companion to 35C (35x43 cm) detector introduced last year. The larger size is ideal for bariatric patients as it offers a larger field of view, Hamman said. The Compass is the first X-ray system the Focus detector is integrated into. For the value tier, it provides ease of entry in moving from CR to DR.
"The introduction of our two new detectors really rounds out our detector portfolio nicely," Hamman said.

SRI is a leading Developer, Manufacturer & Supplier of Innovative Portable Imaging Equipment. We offer Lightweight, Agile, Easy to Maneuver Portable X-Ray Systems ideal for maneuvering in tight spaces. Call us at 631-244-8200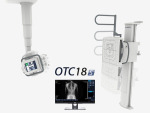 Del Medical
This year, Del Medical introduced its OTC18S radiographic system. One of the system's main features is its ability to automate and improve the quality of difficult long-length leg and full spine imaging exams in a cost-effective way.
Previously, if a customer wanted automatic stitching, they needed to buy an expensive fully robotic system, said Mandy Gutierrez, Del Medical's product marketing manager.
"Typically, systems that automate stitching are only offered in the highest-end, premium, automatically positioned radiography suites," Gutierrez said. "The OTC18S by Del Medical is a high-quality and affordable imaging solution, manufactured in America, that simplifies these complex long-length exams and is a great overall solution. This system is more affordable and offers the perfect balance between automation and manual operation."
The system is accompanied by a newly-designed stitching barrier for patient support and immobilization. The technologist prepares the exam on the tube-side 10.4-inch touch screen. With the required image area identified, the system automatically calculates the required exposures and positions. When the technologist holds the exposure button, the OTC18s automatically moves into position, exposes, and repeats until all images are acquired and displayed fully stitched on the Delworks workstation.
Del Medical also is launching a new generation of FMT and FWFC radiographic systems. The new systems have a modern ergonomic tube head, with simplified controls and digital display of angulation and SID.