por
Lisa Chamoff
, Contributing Reporter | November 23, 2020
From the November 2020 issue of HealthCare Business News magazine
The system has dual-side collimator controls to shorten workflow and provide ergonomic benefits, with less bending and twisting, and also fine positioning controls at the tube head. It comes with an enhanced workflow package, allowing the technologist to toggle between the exam computer and RIS. A distributed antenna assists in connectivity challenges, providing faster image preview and less exam repeats due to a dropped signal.

Carestream Health is a leading provider of quality X-ray systems and detectors that are designed to maximize diagnostic confidence, workflow and patient satisfaction. Follow the link above to see our complete portfolio of digital radiography solutions.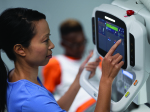 Carestream
Carestream just rolled out its new DRX Compass X-ray system, which is targeted to smaller hospitals and imaging centers, and orthopedic practices.
The system offers improved efficiency and ease of use, said Sarah Verna, worldwide marketing manager for global X-ray solutions at Carestream.
The idea behind the name Compass is that "it can take you in the direction you need to go," Verna said.
The Compass comes with the choice of DRX Plus Detectors or Focus Detectors, and it can be used with the company's newly released DRX-L Detector, designed specifically for long-length images of legs and spine.
The system is currently available with an overhead tube crane.
"We really responded to customers' needs," Verna said. "We can grow with them. You can make the room what you need for your facility."
It also uses the most current version of Carestream's ImageView clinical acquisition software, which recently received the Risk Management Framework Authority to Operate from the Department of Defense, a designation that necessitates fulfilling rigorous cybersecurity requirements.
On the detector side, the new DRX-L Detector is Carestream's first single-shot, long-length imaging DR detector for leg and scoliosis exams. It is particularly ideal for pediatrics and patients with limited mobility, said Jill Hamman, worldwide marketing manager for Carestream.
The detector has a 17-inch-by-51-inch field of view and takes an exposure in one second, versus 15 seconds for traditional multiple exposure DR exams.
"It provides very high-quality images with no need for manual stitch adjustments as patient motion between shots is eliminated. This allows for a higher level of diagnostic confidence and better treatment planning," Hamman said.