por
Lisa Chamoff
, Contributing Reporter | November 23, 2020
From the November 2020 issue of HealthCare Business News magazine
In 2018, Philips released the DigitalDiagnost C90, a ceiling-suspended radiography system that featured a tube head camera with a birds-eye view of the patient to allow for easier positioning. The company is introducing the same camera on its fluoroscopy portfolio
"We're introducing it steps-wise in our fluoro portfolio," said Daan van Manen, general manager for digital X-ray at Philips. "Our theme continues to be workflow improving patient and staff experience."
The technology is 510(k) pending and it comes with software that is the same across the entire X-ray portfolio.

SRI is a leading Developer, Manufacturer & Supplier of Innovative Portable Imaging Equipment. We offer Lightweight, Agile, Easy to Maneuver Portable X-Ray Systems ideal for maneuvering in tight spaces. Call us at 631-244-8200

"Once you're trained on one system, you can use all systems," van Manen said.
Rayence USA
At this year's RSNA virtual meeting, Rayence USA is planning to release a new line of Low-Dose TFT detectors.
The "GreenON " panels will come in a full range of sizes and offer a new standard in low-dose sensitivity.
The company will also release an upgrade to its Xmaru V1 image view software called XMaru Pro that makes it easier for users to customize their screen, quickly acquire and review images, and have some advanced processing features, said E.D. Terzi, marketing director for Rayence USA.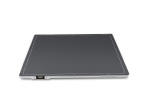 Samsung
Late last year, Samsung updated its AccE portfolio of products, including the AccE GC85A ceiling-mounted DR system and AccE GM85 premium DR mobile.
The two systems were already available, launched in 2016, but were updated to have new AccE detectors, said Boris Geyzer, product manager for digital radiography at Samsung.
The new detectors have improved ergonomics, high distributed weight capacity of 882 pounds, and IP54 dust and water protection, Geyzer said.
The company is also releasing new software, including the 510(k)-pending Auto Lung Nodule Detection application, which will have its formal launch at this year's RSNA.
Another release is its all-in-one Value Up Package, an annual update with added features and functionality to further enhance its DR systems' clinical capabilities and workflow.
"Whenever there are new features, we incorporate that into the Value Up package," Geyzer said. "We're continually developing software so we can add clinically relevant features to our systems."