por
Lauren Dubinsky
, Senior Reporter | March 02, 2020
From the March 2020 issue of HealthCare Business News magazine
Canon tackles this problem from two angles — education and adaptive ergonomics. In 2018, the company launched its Healthy Sonographer program in an effort to educate sonographers on best practices to avoid putting themselves in positions that can get them injured. Some best practices include developing a mental checklist to determine if the patient is too close to them, whether their arms and elbows are tucked in and if their chair and exam bed are adjusted to the exam.
The adaptive ergonomics piece involves scanning in what's called a sonographer-neutral position or a patient engagement position, meaning the provider is set up to face the patient instead of the ultrasound machine.

Quest Imaging Solutions provides all major brands of surgical c-arms (new and refurbished) and carries a large inventory for purchase or rent. With over 20 years in the medical equipment business we can help you fulfill your equipment needs

"This occurs inside what we call the magic triangle, and if you scan the patient within it then you have a better opportunity to be more comfortable while scanning with less exposure to musculoskeletal stress," said McElroy.
The weight of the transducers and cables, which sonographers frequently hold from eight to 12 hours per day, can also play a major role in repetitive injuries. Hitachi's large cable business has introduced some of the thinnest, most flexible and lightweight cables in the industry. Although the company declined to share the secret behind their cables, Wolk said that when sonographers grab the transducers for the first time, some say that they don't feel real because of how lightweight they are.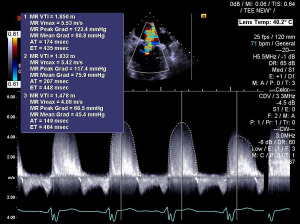 Another way to reduce strain on sonographers is to adopt lightweight handheld ultrasound solutions.
"As a vascular surgeon for a long time, I think about the awkward positions I had to stand in for hours, as well as the sonographers that worked with me in the vascular lab," said Dr. John Martin, chief medical officer at Butterfly Network. "The issue is that you have a big machine and the probe and you're going back and forth between the two."
The Butterfly iQ handheld ultrasound sells for under $2000 and has AI capabilities baked in, particularly for ejection fraction. The tool automatically draws the lines within the ventricle, but if the sonographer disagrees then they can adjust those lines and spit out a new number.
In October 2019, the company launched a new suite of tools for documentation, quality assurance and billing to help hospitals integrate point-of-care ultrasound into their legacy systems.