por
Lauren Dubinsky
, Senior Reporter | March 02, 2020
From the March 2020 issue of HealthCare Business News magazine
Philips recently introduced its 3D Auto RV technology, which identifies the borders of the right ventricle and provides clear imagery of the heart's chambers and how they are pumping blood. This allows clinicians to check and qualify the measurements in 15 seconds or less.
These AI tools obviously simplify exams and make them quicker, but they can also reduce the physical strain on sonographers.

Quest Imaging Solutions provides all major brands of surgical c-arms (new and refurbished) and carries a large inventory for purchase or rent. With over 20 years in the medical equipment business we can help you fulfill your equipment needs

What's the solution to sonographer injuries?
Work-related musculoskeletal disorders (WRMSDs) affect the muscles, nerves, ligaments and tendons of up to 90% of sonographers and other users of diagnostic ultrasound technology, according to the Society of Diagnostic Medical Sonography. Over time, these injuries can eventually lead to restricted or lost work time.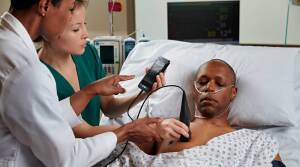 "The job of sonography is very hard as a baseline, but when you look at the fact that volume is increasing, patients are getting larger and protocols are getting longer, that's compounding the incidents of sonographer injury," said Mike McElroy, senior manager of cardiac ultrasound solutions marketing at Canon Medical Systems USA.
From speaking to education professionals in the industry, he learned that it is common for sonography students to have a second career lined up after sonography. They know they will suffer injuries because they see the pain their clinical instructors are in as a result of a long sonography career.
Most major vendors in this field have their own solution to help with this pervasive issue. One method is to use AI tools to reduce the number of keystrokes that sonographers have to make.
"Cardiac ultrasound is very focused on management of clips and measurements," said Dennis Meister, senior vice president of product management and clinical marketing at Siemens Healthineers. "Our eSie Measurement tool is AI-powered and automatically makes all the relevant cardiac measurements and moves into the report so that the user doesn't have to go through innumerable keystrokes to move a measurement to the right location in a report."
Philips takes a similar approach to lightening the clinician's workflow.
"The updates to our ultrasound platform that we released last year can reduce the number of system touches by 21% per exam, equivalent to more than 400 exams each year," said Dr. Alexandra Gonçalves, chief medical officer of strategy and partnerships at Philips.