Most cardiac ultrasound exams today are conducted in a manual process that leaves plenty of room for improvement. The latest solutions entering the market aim to address some of those challenges while also ensuring the health and comfort of the sonographer behind the machine.
"Such a process is subjective, time-consuming, error-prone, cumbersome and highly dependent on the users' experience," said Hila Goldman Aslan, CEO and co-founder of DiA Imaging Analysis. "Analyzing cardiac ultrasound images is even more challenging due to the fact that the heart is a moving organ."
DiA introduced its LVivo Cardiac Toolbox as a way to leverage pattern recognition, deep learning and machine learning algorithms to improve image analysis. The Toolbox includes solutions for automatic ejection fraction measurement, automatic strain analysis, segmental left ventricle wall motion analysis and biplane wall motion abnormalities analysis.
The software is vendor-neutral and leading vendors like GE Healthcare, Konica Minolta and IBM Watson have partnered with DiA over the past couple of years to offer this technology on their systems. In addition to DiA's technology, GE also offers automated Doppler measurements on its Vivid E95 cardiovascular ultrasound system. These measurements are traditionally time consuming because the sonographer has to manually trace the Doppler spectrum.
"We have fully automated that, so basically the machine is doing it for you, which gives you a lot of productivity, better reproducibility and since it's automatic you can create several upcycles and [an] average," said Dagfinn Saetre, general manager of cardiovascular ultrasound at GE.
That last part is often not done with the manual approach because it's too time consuming, he added.
Hitachi Healthcare Americas offers Dual Gate Doppler technology to automatically set pulse wave (PW), tissue Doppler imaging (TDI) or PW/TDI cursors in two different places. It then generates a full Fast Fourier Transform (FFT) analysis.
The company also recently introduced its HemoDynamic Structural Intelligence (HDSI) package. By pressing a button, the software generates left atrium, left ventricle and right atrium volumes as well as fraction area change, ejection fraction and global longitudinal strain quantification and measurements.
"The sonographers are really good artists and they want to have that picture represent how skilled they are," said Thomas Wolk, executive director of cardiovascular ultrasound at Hitachi. "The machine should really help them in their administrative task, and when you think about measurements, it's an administrative task."
Philips recently introduced its 3D Auto RV technology, which identifies the borders of the right ventricle and provides clear imagery of the heart's chambers and how they are pumping blood. This allows clinicians to check and qualify the measurements in 15 seconds or less.
These AI tools obviously simplify exams and make them quicker, but they can also reduce the physical strain on sonographers.
What's the solution to sonographer injuries?
Work-related musculoskeletal disorders (WRMSDs) affect the muscles, nerves, ligaments and tendons of up to 90% of sonographers and other users of diagnostic ultrasound technology, according to the Society of Diagnostic Medical Sonography. Over time, these injuries can eventually lead to restricted or lost work time.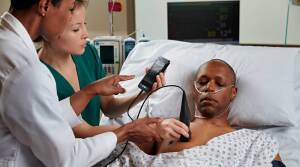 "The job of sonography is very hard as a baseline, but when you look at the fact that volume is increasing, patients are getting larger and protocols are getting longer, that's compounding the incidents of sonographer injury," said Mike McElroy, senior manager of cardiac ultrasound solutions marketing at Canon Medical Systems USA.
From speaking to education professionals in the industry, he learned that it is common for sonography students to have a second career lined up after sonography. They know they will suffer injuries because they see the pain their clinical instructors are in as a result of a long sonography career.
Most major vendors in this field have their own solution to help with this pervasive issue. One method is to use AI tools to reduce the number of keystrokes that sonographers have to make.
"Cardiac ultrasound is very focused on management of clips and measurements," said Dennis Meister, senior vice president of product management and clinical marketing at Siemens Healthineers. "Our eSie Measurement tool is AI-powered and automatically makes all the relevant cardiac measurements and moves into the report so that the user doesn't have to go through innumerable keystrokes to move a measurement to the right location in a report."
Philips takes a similar approach to lightening the clinician's workflow.
"The updates to our ultrasound platform that we released last year can reduce the number of system touches by 21% per exam, equivalent to more than 400 exams each year," said Dr. Alexandra Gonçalves, chief medical officer of strategy and partnerships at Philips.
Canon tackles this problem from two angles — education and adaptive ergonomics. In 2018, the company launched its Healthy Sonographer program in an effort to educate sonographers on best practices to avoid putting themselves in positions that can get them injured. Some best practices include developing a mental checklist to determine if the patient is too close to them, whether their arms and elbows are tucked in and if their chair and exam bed are adjusted to the exam.
The adaptive ergonomics piece involves scanning in what's called a sonographer-neutral position or a patient engagement position, meaning the provider is set up to face the patient instead of the ultrasound machine.
"This occurs inside what we call the magic triangle, and if you scan the patient within it then you have a better opportunity to be more comfortable while scanning with less exposure to musculoskeletal stress," said McElroy.
The weight of the transducers and cables, which sonographers frequently hold from eight to 12 hours per day, can also play a major role in repetitive injuries. Hitachi's large cable business has introduced some of the thinnest, most flexible and lightweight cables in the industry. Although the company declined to share the secret behind their cables, Wolk said that when sonographers grab the transducers for the first time, some say that they don't feel real because of how lightweight they are.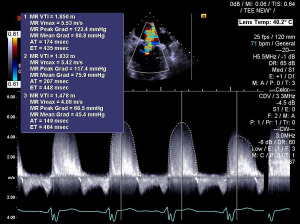 Another way to reduce strain on sonographers is to adopt lightweight handheld ultrasound solutions.
"As a vascular surgeon for a long time, I think about the awkward positions I had to stand in for hours, as well as the sonographers that worked with me in the vascular lab," said Dr. John Martin, chief medical officer at Butterfly Network. "The issue is that you have a big machine and the probe and you're going back and forth between the two."
The Butterfly iQ handheld ultrasound sells for under $2000 and has AI capabilities baked in, particularly for ejection fraction. The tool automatically draws the lines within the ventricle, but if the sonographer disagrees then they can adjust those lines and spit out a new number.
In October 2019, the company launched a new suite of tools for documentation, quality assurance and billing to help hospitals integrate point-of-care ultrasound into their legacy systems.
"If you're going to create a great device, you also have to create a methodology by which it fits into the way we practice medicine," said Martin.
The market at large
Due to the increasing prevalence of diabetes and obesity as well as the growing elderly population, cardiovascular disease is on the rise, and the need for procedures such as transcatheter aortic valve replacement (TAVR), tricuspid valve procedures and mitral valve procedures is increasing. The cardiac ultrasound market is expected to grow from $1.45 billion in 2016 to $1.72 billion in 2023, according to a Market Watch report published in April 2019.
In August, the FDA approved an expanded indication for TAVR to include patients with severe aortic valve stenosis at low surgical risk. Previously, only patients at high surgical risk were candidates for this procedure.
"There are a lot of hospitals now opening structural heart services, 3D transesophageal echo is now standard of care in these cases, and older equipment won't necessarily support that new technology," said Canon's McElroy.