por
Sean Ruck
, Contributing Editor | July 05, 2019
From the July 2019 issue of HealthCare Business News magazine
HCB News: What do you feel makes Northern Westchester Hospital unique?
JS:
I think there are two things. One is our long-standing commitment to be a leader in patient-centered care. We were one of the first hospitals in the country to become a Planetree Designated Patient-Centered Hospital. We have since been re-designated three times with Distinction, and we continue to advance on that journey every year. So yes, the number one thing that's different here is the commitment to engaging patients and their families. We do that in a whole variety of ways, including inviting patients and caregivers to be part of the teams that design and evaluate the processes and programs here at NWH. As an industry we're constantly learning how to put patients at the center of our decision-making process, and as a hospital too. So top of the list is patient engagement.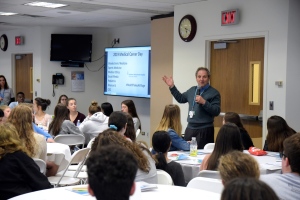 Second on the list is community engagement. We have lots of ways we work directly with the community and in the community. We have very robust volunteer programs at many different levels. We have a very active board that speaks brilliantly on behalf of the community. We have a President's Council and a President's Junior Leadership Council to engage the next generation. One of our principles is the more we can get people in the building to partner with us and the more we can get out to their facilities to partner with them, the stronger we are collectively. When you think about all these organizations in our community — and this goes, probably, for any hospital — there are literally dozens of organizations who are committed to keeping people well. To the extent we can help each other and develop a network that's efficient and effective, the better able we will be to fulfill our mission. That's one of our core principles here and it's appreciated by our staff and the community.

Quest Imaging Solutions provides all major brands of surgical c-arms (new and refurbished) and carries a large inventory for purchase or rent. With over 20 years in the medical equipment business we can help you fulfill your equipment needs

HCB News: What is the makeup of your patient population?
JS:
For in-patient last year we're about 40 percent Medicare, about 40 percent commercially insured, 15 percent Medicaid, and 5 percent other. Relatively speaking, that's a very favorable payor mix compared to most hospitals in New York.