por
Lisa Chamoff
, Contributing Reporter | May 13, 2019
From the May 2019 issue of HealthCare Business News magazine
Last October, the company added a new AED tester, the Delta 1600, to its existing line of products. The unit is designed to test all AEDs including pulsed AEDs. Some of the key features include the selection of multiple arrhythmia simulations and an auto function, which eliminates multiple discharges.
The handheld device, which has a rechargeable lithium ion battery, is used to test AEDs that are commonly used in ambulances, sports stadiums, aircraft, schools and malls, Oommen said.

Numed, a well established company in business since 1975 provides a wide range of service options including time & material service, PM only contracts, full service contracts, labor only contracts & system relocation. Call 800 96 Numed for more info.

"It is important to routinely verify the performance of AEDs," Oommen said. "We believe that in every situation the emergency should be the patient and not the equipment."
Rigel Medical
Rigel Medical recently received FDA 510(k) clearance for the UniPulse 400, a defibrillator analyzer. The device, which comes with a color LCD display, can also test defibrillators for pacer functionality.
The company also added the ability to pair its 288+ Electrical Safety Analyzer with an Android device to upload safety test data.
"Before, it would have been able to transmit the test results to a computer via a data file," said Jack Barrett, the national business development manager for Rigel Medical. "The big advantage is if the biomed is in a different place within a hospital, or off-site doing testing, they can accomplish the test and send the data to their Android phone or tablet. It simplifies what they have to carry around with them."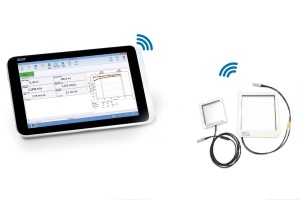 RTI Group
At the end of 2018, RTI Group released a new accessory for its Black Piranha X-ray Quality Assurance meter that measures Dose Area Product (DAP), or Dose Per Area, in the fields of radiography, fluoroscopy, C-arm and mammography systems, as well as dental X-ray systems.
This was in response to new International Electrotechnical Commission (IEC) standards – in reference to dental X-ray systems – that require DAP to be built into a system, generating a need to test.
"Compliance and calibration need to be checked by inspection and by appropriate functional tests," said Fredrik Brorson, product manager for RTI Group. "You need to make sure the DAP is calibrated on an X-ray system. Our DAP solution provides a tool to complete this work in an easy way."