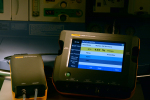 Testing equipment continues to advance
May 13, 2019
by
Lisa Chamoff
, Contributing Reporter
Testing equipment doesn't come with all the bells and whistles of the latest patient monitor or CT scanner, but it can make all the difference when managing a fleet of expensive investments.

The market continues to evolve with touch screens and data-sharing capabilities, as well as some smart automation.

Here's a look at some of the latest testing equipment on the market.

BC Group International
Over the last year, BC Group has released the IPA-3400, a compact infusion pump analyzer with a touch screen user interface and a dual syringe stepper motor-driven system that provides continuous monitoring of the fluid flow, without the need to stop and perform intermittent drains.

"This provides a more realistic flow path for the infusion device under test and therefore more accurate readings," said Ken O'Day, vice president of sales and marketing for BC Group International. "Also, independent stepper motor control of the custom designed ceramic valving allows the system to run not only more quietly and more smoothly, but it also allows for a powered fluid flow for use in the built-in cleaning cycle."

The IPA-3400 has built-in auto-sequence capabilities that allow the user to perform automatic test procedures specified by various manufacturers, which O'Day said saves time and reduces the risk of human error.

The IPA-3400 holds up to four IPA-3900-FM flow modules, which are individually serialized and calibrated so that they can be moved from channel to channel and unit to unit.

"Once installed, they are recognized by the IPA-3400, and their serial number and NIST-traceable calibration information are presented on the display and utilized in all data reporting," O'Day said. "This means you will never be down because one of the channels needs calibration or repair, which is unique to this type of product."

The company also released the AA-8000 portable anesthetic agent analyzer for hospitals and surgical centers.

O'Day said the compact analyzer, which uses a proprietary digital nondispersive infrared (NDIR) technology, has one button to select the agent to be analyzed and one-button control over the sampling pump, which makes it easy to use.

"No complex menus and key combinations are required and you do not have to turn the unit off to switch agents," O'Day said.

The device can store up to 500 readings and the test data can be downloaded to a computer via a USB connection, which can also be used to update the device. The device is built with a rechargeable lithium battery.

Cadex
Cadex has been working to help healthcare providers get the most life out of the rechargeable batteries for their portable equipment with battery analyzers, which display battery state-of-health.

"A report says that we're throwing out a million good batteries a year," said Isidor Buchmann, chief executive officer of Cadex. "And still, up to 50 percent of service calls in hospitals are related to battery issues."

The company will soon release the Universal Diagnostic Charger that reveals state-of-health of smart batteries, used in devices such as defibrillators and patient monitors. Battery status will be stored in the Cadex Cloud, a web-application database.

"Each time you service a battery, the diagnostic charger will read the capacity, take a snapshot of the remaining charge and hint to pending service, such as calibration," Buchmann said. "Capacity is the leading health indicator, and with the Cadex Cloud, the fleet supervisor can predict when a battery should be replaced." This improves system reliability, reduces operating costs and lowers environmental harm, as fewer batteries are replaced.

Beta testing for the Universal Diagnostic Charger is starting soon.

Datrend Systems
In April, Datrend Systems released vPad-EQT, a new app that allows biomedical engineers to do electrical safety testing with capabilities for multiple standards, as well as automation.

"It's like having a built-in equipment inventory," said Ron Evans, vice president of product development for Datrend Systems.

For example, when testing a defibrillator, a biomedical engineer can type in its asset number and select the electrical standard they want to use. From then on, the system knows what to test. At the end of the test, the test protocol information is saved, linked to the asset ID, and retained for next year's test.

"The whole push from our side is on productivity," Evans said. "Making it really easy for the end user is our priority."

Datrend Systems has also added features to its vPad-Mini, a small safety tester released at the beginning of 2018.

New firmware allows the device to record test results and send them to devices, including printers, via a Bluetooth connection. On the original unit, a biomedical engineer would manually record the results.

Multiple test results can now also be saved into the VPad-Mini's memory.

Fluke Biomedical
Last January, Fluke Biomedical released two gas flow analyzers, the VT650 and VT900A. Both models measure flow, pressure and volume, along with oxygen concentration used on equipment such as ventilators and anesthesia machines.

Both models come with a 7-inch color touchscreen display and a single flow channel that automatically compensates for temperature, humidity and pressure. Both models have the ability to save test profiles specific to the brand and model of gas flow devices.

"You just save your test profile and you're ready to go," said Michael Raiche, a product manager at Fluke Biomedical.

The VT 900A has an added external TTL trigger and ultra-low flow, and ultra-low-pressure ports that allow it to test devices that require more accurate measurements at low flows and pressures, such as pediatric ventilators and anesthesia machines.

The models weigh less than the predecessor equipment.

"We've moved from a bench-top model to one that's more portable," Raiche said. "It's no longer something you have to keep in the shop, it's something you can bring with you."

They come with eight hours of battery life and onboard memory, and biomedical engineers can pull off the test results using an Excel plugin.

The company is also releasing a new anesthesia testing accessory called VAPOR that measures anesthetic agent concentration as well CO2 and N2O concentration.

"Now you can do preventive maintenance on the vaporizer portion of an anesthesia machine," Raiche said.

VAPOR detects how much of an agent is being administered to the patient through the anesthesia delivery system, Raiche said. It can detect two gases at the same time, which identifies failure modes that other models might miss.

"Other products on the market can only detect one gas at a time," Raiche said. "When a vaporizer is operating properly, you should only see the agent you've turned on. If you're seeing two agents at the same time, that should be a red flag."

Gammex
Gammex, a Sun Nuclear Company, recently made a number of improvements to its electron density phantom, which is used in radiotherapy to determine the relationship between tissue density and scanner values, as needed to determine the amount of radiation needed to treat a tumor.

The new Advanced Electron Density Phantom is 16.5 centimeters thick for use with wide-beam, cone-beam or multi-slice CT scanners with 16.5-centimeter-thick rods, which resemble human body tissue.



The rod materials are benchmarked against the ICRU-44 and ICRP standards for materials that represent human tissue, Ruchala said.

"We've used reagents that we think are very reliable and robust, providing a consistent match to the standards," Ruchala said.

The rods also come with patent-pending markers that identify the material it is supposed to resemble, which Ruchala said makes the identification process faster. The markers, used with software that is planned to be released this summer, can streamline the process of analyzing scan data to create the tissue density calibration.

Previously, a tester would have to use a photograph match to determine content of the rod and then manually find out the average value and density, Ruchala said, noting that automation would make the process less prone to error.

"I think it will let clinics use their staff time more efficiently," Ruchala said.

Netech
In June 2018, Netech launched the Delta 3300, a compact and lightweight defibrillator/transcutaneous pacemaker analyzer that can measure both monophasic and biphasic waveforms. It also has a 12-Lead ECG/arrhythmia simulator function, with data saving and printing capabilities.

"Delta 3300 is the most user friendly and smallest defibrillator analyzer in the market today," said Wijin Joe Oommen, sales manager for Netech Corporation. "With its lithium ion rechargeable battery, the device is portable and ideal for on-the-go testing."

Last October, the company added a new AED tester, the Delta 1600, to its existing line of products. The unit is designed to test all AEDs including pulsed AEDs. Some of the key features include the selection of multiple arrhythmia simulations and an auto function, which eliminates multiple discharges.

The handheld device, which has a rechargeable lithium ion battery, is used to test AEDs that are commonly used in ambulances, sports stadiums, aircraft, schools and malls, Oommen said.

"It is important to routinely verify the performance of AEDs," Oommen said. "We believe that in every situation the emergency should be the patient and not the equipment."

Rigel Medical
Rigel Medical recently received FDA 510(k) clearance for the UniPulse 400, a defibrillator analyzer. The device, which comes with a color LCD display, can also test defibrillators for pacer functionality.

The company also added the ability to pair its 288+ Electrical Safety Analyzer with an Android device to upload safety test data.

"Before, it would have been able to transmit the test results to a computer via a data file," said Jack Barrett, the national business development manager for Rigel Medical. "The big advantage is if the biomed is in a different place within a hospital, or off-site doing testing, they can accomplish the test and send the data to their Android phone or tablet. It simplifies what they have to carry around with them."

RTI Group
At the end of 2018, RTI Group released a new accessory for its Black Piranha X-ray Quality Assurance meter that measures Dose Area Product (DAP), or Dose Per Area, in the fields of radiography, fluoroscopy, C-arm and mammography systems, as well as dental X-ray systems.

This was in response to new International Electrotechnical Commission (IEC) standards – in reference to dental X-ray systems – that require DAP to be built into a system, generating a need to test.

"Compliance and calibration need to be checked by inspection and by appropriate functional tests," said Fredrik Brorson, product manager for RTI Group. "You need to make sure the DAP is calibrated on an X-ray system. Our DAP solution provides a tool to complete this work in an easy way."

Biomedical engineers put the RTI DAP chamber in the beam during an exposure, and it automatically provides a value. Previously, engineers needed to calculate DAP themselves.

"Just make sure the X‐ray field does not extend outside the DAP chamber area, you don't need any maths!" Brorson said.

The DAP value can be automatically added to the Quality Assurance report, wirelessly through the Black Piranha base system and the Ocean Software.

The accessory comes in two different sizes – an 86-by-86-millimeter size and a 147-by-147-millimeter size – depending on the modality and system that the biomedical engineer works with.