por
Lisa Chamoff
, Contributing Reporter | June 19, 2018
From the June 2018 issue of HealthCare Business News magazine
"It becomes a much more accessible way of providing comprehensive Nuclear Medicine software through the PACS or hospital enterprise," Bond said. "It's also cheaper from an IT maintenance perspective because it consolidates how hospitals manage their nuclear medicine imaging."
With Mirada software, staff can save regions of interest, TACs and statistics and then come back to the same place later, regardless of physical location within the hospital, Bond said.

Numed, a well established company in business since 1975 provides a wide range of service options including time & material service, PM only contracts, full service contracts, labor only contracts & system relocation. Call 800 96 Numed for more info.

The software works with nuclear medicine scanners from any manufacturer, freeing staff from being locked into using specific workstations to perform tasks, and departments from expensive OEM service contracts, Bond said.
Philips Healthcare
In September 2017, Philips released CardioMD IV, a small SPECT system for cardiac imaging.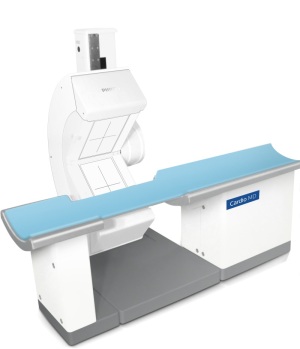 The system, which is currently only available only in U.S., uses the company's advanced Astonish reconstruction and cardiac quantification software to improve diagnostic confidence and workflow for cardiac imaging.
"Recognizing molecular imaging's potential to transform healthcare, CardioMD IV is tailored to address the most pressing challenges in cardiac imaging today," said Tom Neufelder, head of CT and advanced molecular imaging for Philips.
The dedicated cardiac SPECT solution has a small footprint, to fit in most existing camera rooms without requiring costly renovations. The design allows for greater positioning flexibility, and the Astonish reconstruction improves workflow efficiency without sacrificing image quality.
CardioMD IV can be combined with IntelliSpace Portal, Philips' advanced visualization and analysis platform, to provide enterprise-wide access to the latest cardiac SPECT quantification, review and reporting applications while enabling effective collaboration among cardiologists and referring physicians, according to Neufelder.
"Our aim is to advance molecular imaging in all disease areas and provide dependable imaging solutions to enhance diagnostic confidence and patient care at lower costs," Neufelder said.
Siemens Healthineers
The company recently released a new set of features for its Biograph mCT family of PET/CT systems. One of the features is OncoFreeze, a technology for respiratory gaiting that allows for virtually motion-free images without increasing scan time.