por
Lisa Chamoff
, Contributing Reporter | June 19, 2018
From the June 2018 issue of HealthCare Business News magazine
"Before, you took a portion of the breathing cycle, extending the scan time" said Wendy Winkle-Lawless, director of marketing for molecular imaging at Siemens Healthineers. "Now we've found a way to take every portion of the breathing cycle, overlap it and correct for that motion. Before you would have to at least double your time or do a second scan over that area of the body. Most would add 10 to 15 minutes to the scan slot. Now, with OncoFreeze, you can do it in the same scan slot as if a patient wasn't being gated."
The technology is particularly helpful for scanning lung cancer patients.

Special-Pricing Available on Medical Displays, Patient Monitors, Recorders, Printers, Media, Ultrasound Machines, and Cameras.This includes Top Brands such as SONY, BARCO, NDS, NEC, LG, EDAN, EIZO, ELO, FSN, PANASONIC, MITSUBISHI, OLYMPUS, & WIDE.

"Having virtually motion free images could make a big difference in how you diagnose or stage patients if you can see tumors more clearly," Winkle-Lawless said.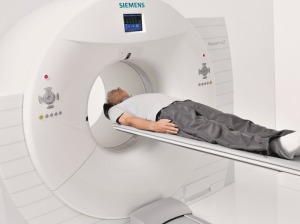 There is also CardioFreeze for cardiac gating, which corrects for both motion of the heart caused by breathing and the beating of the heart.
"It allows you to get a more precise gate," Winkle-Lawless said.
Both features are also intended to increase patient comfort and improve outcomes, Winkle-Lawless said.
The new features also include QualityGuard, which allows the scanner to calibrate itself daily, overnight, without the need for a radioactive phantom. A phantom is only used quarterly for full calibration.
Winkle-Lawless said QualityGuard should save customers 120 hours per year and will help reduce risks to workers when lifting the phantom, while exposing them to less radiation.
"Now you can come in in the morning and immediately start scanning patients," Winkle-Lawless said. "You could add an extra scan slot per day."
Recently, Siemens received FDA clearance to use a technology called FlowMotion Multiparametric PET Suite on its PET systems. During imaging, the patient is scanned multiple times, instead of just once, which provides important information about the uptake of a tracer.
"It allows you to evaluate metabolic activity in the tissue over time," Winkle-Lawless said.
Back to HCB News