por
Loren Bonner
, DOTmed News Online Editor | June 11, 2012
From the June 2012 issue of HealthCare Business News magazine
Some of these areas might be the brain, head and neck, and abdomen.
GE's Discovery PET/CT 710 is geared toward high-count rate isotopes that are prevalent in research settings. But it also meets the needs of the future as these tracers become available in the F-18 versions for wider clinical use.

Numed, a well established company in business since 1975 provides a wide range of service options including time & material service, PM only contracts, full service contracts, labor only contracts & system relocation. Call 800 96 Numed for more info.

The company has addressed PET/MR in a phased manner,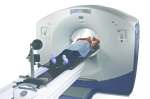 first, by keeping the CT portion of PET/CT intact. "Our approach is to enable research in establishing the clinical utility of PET/MR today by providing a direct reference to PET/CT baseline through our TriModality solution, while providing a way in the longer term to have a simultaneous scanner with technologies that enable the next generation of PET and MR imaging to be equal or better than the key research enablers available on today's PET/CT and MR systems independently," says Bhatt.
Philips reports that it has a sizable install base of its PET/MR systems, the Ingenuity TF PET/MR, since it first introduced the technology in 2010.
"To give you an estimate, at the last SNM conference, we had over 500 cases being done with PET/MR. So at this point, we should have at least double that," says Misra.
That said, PET/MR has mainly found its home in research settings. "It's primarily customers working on translation medicine who want to push new frontiers with molecular imagining."
In other words, PET/MR has not yet found mainstream clinical use. But that could all change if reimbursement were to kick in and the price came down low enough.
DOTmed Registered 2012 - June PET, PET/CT Companies
Names in boldface are Premium Listings.
Domestic
Robert Brait, SIEMENS
, MA
Joshua Nunez, Block Imaging
, MI
DOTmed 100
Kenneth Smith, BC Technical
, UT
DOTmed Certified
Ian Alpert, Tandem Medical Equipment
, NY
DOTmed Certified
DOTmed 100
David Stopak, A.Imaging Solutions
, AL
DOTmed Certified
DOTmed 100
Paul Zahn, Shared Medical Services, Inc.
, WI
DOTmed Certified
DOTmed 100
David Denholtz, Integrity Medical Systems, Inc.
, FL
DOTmed Certified
DOTmed 100
John Pereira, United Medical Technologies
, FL
DOTmed Certified
DOTmed 100
Ronen Bechor, ElsMed Ltd. & Relaxation, Inc.
, FL
DOTmed Certified
DOTmed 100
Greg Kramer, C&G Technologies, Inc.
, IN
DOTmed Certified
DOTmed 100
Don Bogutski, Diagnostix Plus, Inc.
, NJ
DOTmed Certified
DOTmed 100
Todd King, KING Equipment Services, Inc.
, IL
DOTmed Certified
Kevin McGehee, Marquis Medical
, LA
Daniel Pakuszeski, Southwestern Imaging
, TX
DOTmed Certified
DOTmed 100
Kenn Matayor, Jaken Medical, Inc.
, CA
DOTmed Certified
Joseph Oliverio, Positron Corporation
, IN
Christie Loveday, Encore Global Imaging
, TN
Kevin Larcher, Larcher Medical
, NC
Satrajit Misra, Philips Healthcare
, MA
Back to HCB News