Last summer, the FDA received a report with information related to CardioGen- 82, the generator that uses strontium-82 to provide rubidium-82 — a radioactive PET isotope in myocardial perfusion. Apparently, two airline passengers were detained when they set off radiation alarms coming through U.S. airports. Further investigation confirmed that the passengers had been exposed to excess radiation from CardioGen-82 due to a "strontium breakthrough" after having undergone PET scans, at separate cardiology centers, only a few months before traveling.
Bracco Imaging, the sole manufacturer of the rubidium-82 generator, complied with the FDA to launch an investigation into the root cause of what happened. After multiple tests and a recall of Bracco's generators at the end of July, it was determined that the incident resulted from user error. In a statement, the FDA said that they believed the excess radiation came from strontium isotopes that were accidentally injected by the CardioGen-82, with the rubidium-82 injection at the sites.
Consequently, Bracco worked with the FDA on revising labeling and safety procedures. The company's generators now carry new, FDA-approved warnings, as well as a series of amended rules users must obey.
"That's the reason we could come back to market in seven months—because of all the testing and documentation we provided," says Kim McDaniel, senior director of sales and marketing at Bracco. In February, Bracco reintroduced its rubidium generators and the product has gradually returned to market.
"We still don't have everyone back on board yet. But we anticipate everyone to be back in July and we'll be adding new customers after that," says McDaniel.
Still, there's talk that the new FDA requirements for rubidium could have an impact on the market.
"If you look at the new FDA requirements for quality control of the generator, you can't be a high user because at some point the generator starts to spit out strontium," says Wayne Webster, medical imaging business developer and founder of Proactics Consulting.
The market takes a turn and companies make adjustments and deals
For many PET dealers, the modality was a strong income generator until the sector crashed due to the rubidium recall.
SPECT has traditionally been the dominant modality to detect coronary artery disease in patients non-invasively. But in 2010, the Centers for Medicare and Medicaid changed its reimbursement rates to favor PET over SPECT for myocardial perfusion imaging. This is where PET began to take over and Diagnostix Plus Inc. saw a business opportunity. The company has been a key supplier of nuclear medicine equipment and service for more than 30 years. Starting in about 2007, it began upgrading older dedicated PET scanners for cardiology practices.
"It increased our sales four fold," says Don Bogutski, the company's founder and president.
Diagnostix found that PET was able to dramatically improve the diagnosis of some of the most difficult heart patients. Bogutski said customers told him that PET eliminated almost 100 percent of the false positives that were being referred from SPECT.
Cardiology practices have increasingly been choosing PET over SPECT in recent years not only because it's more effective in diagnosis, but also because it's more efficient.
"With SPECT, it takes almost six hours to complete an entire cardiac workup. It's an enormous burden on the health care system. PET can do the same thing in about 45 minutes," says Satrajit Misra, head of business development and marketing for nuclear medicine at Philips Healthcare.
Several years ago, Positron Corporation created a business around the market for dedicated PET for cardiology. Positron's Attrius has been on the market since 2010 and it's the only standalone PET scanner available today.
"We were seeing a diversion away from PET to PET/CT and we didn't feel there was a good enough reason to justify the CT addition to PET for cardiology," says Joseph Oliverio, chief technical officer at Positron. "There are a lot of differences between PET and PET/CT when it comes to oncological imaging. But for cardiology, it's difficult to find a justifiable reason for its costs, size and incremental findings."
Like other stand-alone PET sellers and dealers, he says that the rubidium recall has been tough on business: "It's basically halted dedicated PET sales to zero, as you can imagine." So much so, that Positron reported that it did not sell any machines between July 1 and December 31, 2011.
Further, in November 2011, the U.S. Securities and Exchange Commission filed a complaint against Positron's Chairman and CEO, Patrick Rooney. The SEC claims that Rooney defrauded investors of the hedge fund he operates, Solaris Opportunity Fund, LP. In the complaint filed in U.S. District Court for the Northern District of Illinois, the SEC alleges that Rooney "used the fund as Positron's piggy bank and caused the fund to finance Positron when it had no other sources of funding."
Even with that hit, Positron has been working toward developing a 70 MeV domestic cyclotron and radiopharmaceutical manufacturing facility. The company signed a Memorandum of Understanding with the city of Noblesville, Indiana last summer to carry out a relocation project bent on spurring economic growth.
A spokesperson with the city's economic development department told DOTmed Business News that the ball was in Positron's court as far as moving ahead with the project. In the agreement, Positron will receive incremental chunks of funding from the city, but only after the company reaches an agreed upon investment minimum with the company proposing a total capital investment of $55 million.
Despite the ups and downs this year, as it relates to the PET market, dealers remain optimistic for the future.
"PET is not dead by a long shot. Rubidium is coming back and additional radioisotopes are hopefully coming by the end of this year," says Josh Nunez, PET and PET/CT product manager at Block Imaging International Inc.
A paradigm shift for PET cardiac imaging
Bracco's rubidium has maintained a strong hold on the market since it was cleared for PET heart studies by the FDA in 1989. But this could change soon with the introduction of a new myocardial perfusion agent for PET from the Mass.-based diagnostic imaging company, Lantheus Medical Imaging, Inc. It's expected to receive FDA approval next year.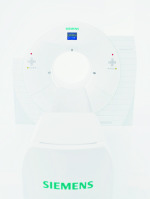 "When rubidium was pulled off the market last July, that brought the curtain down on act one. We're in intermission right now. Act two might begin with a competitor, which will then bring down the cost of rubidium. No doubt," says Bogutski.
Bracco's rubidium generators cost end users almost $500,000 a year. That's a big investment for just one component of PET. But Lantheus' 18 F-Flurpiridaz, when it becomes available, could rearrange the playing field.
"That tried and true model that was successfully applied to SPECT perfusion cardiac imaging—buying unit doses—will be applied to PET perfusion cardiac imaging, and that's going to result in a noticeable expansion of cardiac PET use," says Bogutski.
Lantheus' fluorine-18 derivative uses similar pharmacokinetics to SPECT cardiac imaging with technetium agents. "In place of the glucose-dependent chemistry of FDG, this cardiovascular targeted chemistry allows it to localize in the muscle of the heart," says Bogutski. F-18 has a much longer half-life than Rubidium—almost two hours, as opposed to rubidium's 75 seconds. This is what allows the unit dose distribution model to be possible, potentially changing the economics for cardiology practices and allowing many more to offer PET diagnostic solutions, since the expense of the contract purchase of rubidium generators is virtually eliminated.
"The Lantheus product says finally there's no need for an infusion card, no need to have this thing sitting here if I don't have a patient. I can order doses when I need them," says Webster.
Webster equates the shake-up to what happened when nuclear pharmacies came on the scene in the 1970s. They allowed hospitals to buy the products directly, instead of having a nuclear technologist on-site buying the generators and mixing the doses themselves. "The nuclear pharmacy came along and said we'll deliver the doses and syringes and you'll have more space and less paperwork," he says.
Dr. Hossein Jadvar, vice president of SNM PET Center of Excellence, says he expects 18 F-Flurpiridaz to receive FDA approval and when it does it "will probably change the way myocardial perfusion studies are done because it's shown that it's more accurate with PET technology."
As stand-alone PET scanners move in to dominate cardiology, and more research goes into developing new PET tracers for cardiology, OEMs will work on lowering their price point for the more expensive PET modality they manufacture: PET/CT.
In fact, this is already happening. Last year, Philips introduced the TruFlight Select PET/CT, which made Time-Of-Flight scanners economical while maintaining the TOF advantages, according to Misra. TOF, which gives clinicians a more precise reading while at the same time reducing noise, has traditionally been expensive and out of reach to the regular health care community.
"Now it's almost in striking distance of a regular PET scanner," says Misra.
Philips was able to do this by optimizing the imaging chain, allowing the company to bring down the overall costs involved with a TOF scanner while maintaining the advantages.
A new tracer, another opportunity
Cardiac imaging won't be the only area of PET to profit from new radiotracers coming to market.
"The growth of PET—or where PET is headed—depends on what kinds of tracers come to market. We see neurology as a key area for PET going forward," says Vivek Bhatt, general manager of GE Healthcare's PET business.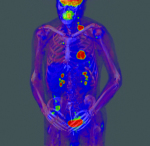 In April, the FDA approved a new radiopharmaceutical called Amyvid. It's the first tracer on the market to measure amyloid deposits in the brains of patients who have Alzheimer's, or who exhibit early symptoms of the disease. Alzheimer's is usually diagnosed by performing an MRI to look for plaque build-up, or after the fact, through autopsy by taking tissue segments of a person's brain. Amyvid works by binding to beta amyloid plaque in the brain after it's injected into a living patient, and then lighting up images of plaque in the brain with a PET scan.
"This approval marks a great advancement in nuclear medicine practice, as it enables us to evaluate the presence or absence of moderate to frequent levels of amyloid plaques in a patient's brain," says Dr. Daniel Skovronsky, president and CEO of Avid, and global brand development leader for Amyvid at Eli Lilly and Company. "In conjunction with other tests, Amyvid may help give physicians additional information when evaluating patients for the cause of their cognitive decline."
Siemens' subsidiary PETNET Solutions Inc., the largest chain of radiopharmacies in the U.S., entered a deal last November with Eli Lilly to gain U.S. manufacturing and distribution rights for Amyvid. PETNET is gearing up to launch the Phase I of this deal with Eli Lilly involving Amyvid in early June. This will entail the manufacture and distribution of the biomarker at nine PETNET sites across the U.S, according to Jeff Bell, a spokesperson for Siemens Healthcare. Phase II will kick off toward the end of the summer, with Phase III coming by year's end.
GE Healthcare has two more PET imaging agents in the pipeline for FDA approval that can also detect amyloid plaque. These also promise to help clinicians characterize the stages of Alzheimer's and spot the disease early, and will ultimately play a role in developing new treatments for disease.
Although this is all welcome news for PET industry players, any significant uptick in the use of PET on brain imaging will depend on whether the Center for Medicare and Medicaid Services deems the drugs worthy of reimbursement.
"They have to prove to CMS that it does something that they are not already able to do, that literally could add another 18 months [to the reimbursement process], even when they have FDA approval before there's reimbursement," says Webster.
He adds that these new PET imaging agents to study Alzheimer's will most likely benefit big centers that carry out Alzheimer's research because they can show CMS that the radiotracers not only help diagnose patients, but manage their therapy better.
PET/CT holds strong
PET imaging is initiated by injecting a patient with a radiopharmaceutical. Most procedures use FDG—a molecule of glucose attached artificially to an A18 fluorine atom—and that emits a positron that combines with the electron and highlights an image on a scanner.
When FDG gained traction as a favorable oncology agent, reimbursement quickly followed. PET/CT joined in almost immediately because, even though dedicated PET technology provided information about the metabolic activity, it wasn't able to supply the anatomical details to improve the detection of abnormalities on a scan the way CT could.
Currently, research efforts are focused on how quantitation can help PET/CT in the clinical setting, particularly as it applies to cancer.
GE Healthcare says that quantitation capabilities for PET are needed to take PET/CT from a diagnostic and staging modality, to one that can monitor therapy and treatment effectively.
"What we need in order to do this is an accurate and repeatable way to measure the activity in the lesion. That's what we mean by quantitation," says Bhatt."We are taking the data from every count, every image and every piece of information collected—taking that and putting it in one single image," he says of the just introduced Q. Freeze technique for motion management. Traditional approaches have been to use only data collected during one phase of breathing to reduce motion artifacts.
GE recently introduced its Q. Suite line of tools, which promise to create more consistent readings through quantitation. It does this by working through what Bhatt says are the main causes for variability for PET readings: motion, stability of equipment and reconstruction, and managing patients consistently.
Siemens new Biograph mCT also brings reproducible quantification to molecular imagining. For cancer, this can mean detecting, characterizing and monitoring lesions more precisely, therefore making treatment more cost effective.
"Now the advantage has been determined that instead of having patients go through 12 weeks of therapy to see that it's not working, they can do a repeat scan at four weeks to see if treatment is responding," says Robert Brait, PET/CT product manager at Siemens.
Is the future PET/MR?
SNM's Jadvar says that PET/MR is a rather natural extension of what happened with hybrid imaging and PET/CT. "But it's going to take some time before what we call the 'killer applications' can be identified." With a foothold in PET/CT all the way down to the radiotracers, Siemens is recognized for being a true molecular imaging company. Naturally, the company saw an opportunity in combining PET and MRI.
Siemens' Biograph mMR was introduced at RSNA in 2010.
"It's the only simultaneous PET/MR hybrid scanner available in the world. Others might do it, but not simultaneously," says Abe Voorhees, U.S. product manager for Siemens' Biograph mMR PET/MR system.
Siemens has already installed the system in four high-end research sites across the U.S., with plans for 10 more by the end of the year.
"Definitely, on the research side, it offers capabilities never seen before. It's MRI and PET together so from a diagnostic perspective, it's a very exciting combination," says Voorhees.
Voorhees speculates that once PET/MR becomes more widely available, its capabilities will really shine in areas where there's additional soft tissue contrast needed. "These are areas where CT maybe just can't show you the structure that you need to see for radiation treatment planning or surgical intervention."
Some of these areas might be the brain, head and neck, and abdomen.
GE's Discovery PET/CT 710 is geared toward high-count rate isotopes that are prevalent in research settings. But it also meets the needs of the future as these tracers become available in the F-18 versions for wider clinical use.
The company has addressed PET/MR in a phased manner,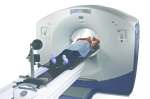 first, by keeping the CT portion of PET/CT intact. "Our approach is to enable research in establishing the clinical utility of PET/MR today by providing a direct reference to PET/CT baseline through our TriModality solution, while providing a way in the longer term to have a simultaneous scanner with technologies that enable the next generation of PET and MR imaging to be equal or better than the key research enablers available on today's PET/CT and MR systems independently," says Bhatt.
Philips reports that it has a sizable install base of its PET/MR systems, the Ingenuity TF PET/MR, since it first introduced the technology in 2010.
"To give you an estimate, at the last SNM conference, we had over 500 cases being done with PET/MR. So at this point, we should have at least double that," says Misra.
That said, PET/MR has mainly found its home in research settings. "It's primarily customers working on translation medicine who want to push new frontiers with molecular imagining."
In other words, PET/MR has not yet found mainstream clinical use. But that could all change if reimbursement were to kick in and the price came down low enough.
DOTmed Registered 2012 - June PET, PET/CT Companies
Names in boldface are Premium Listings.
Domestic
Robert Brait, SIEMENS
, MA
Joshua Nunez, Block Imaging
, MI
DOTmed 100
Kenneth Smith, BC Technical
, UT
DOTmed Certified
Ian Alpert, Tandem Medical Equipment
, NY
DOTmed Certified
DOTmed 100
David Stopak, A.Imaging Solutions
, AL
DOTmed Certified
DOTmed 100
Paul Zahn, Shared Medical Services, Inc.
, WI
DOTmed Certified
DOTmed 100
David Denholtz, Integrity Medical Systems, Inc.
, FL
DOTmed Certified
DOTmed 100
John Pereira, United Medical Technologies
, FL
DOTmed Certified
DOTmed 100
Ronen Bechor, ElsMed Ltd. & Relaxation, Inc.
, FL
DOTmed Certified
DOTmed 100
Greg Kramer, C&G Technologies, Inc.
, IN
DOTmed Certified
DOTmed 100
Don Bogutski, Diagnostix Plus, Inc.
, NJ
DOTmed Certified
DOTmed 100
Todd King, KING Equipment Services, Inc.
, IL
DOTmed Certified
Kevin McGehee, Marquis Medical
, LA
Daniel Pakuszeski, Southwestern Imaging
, TX
DOTmed Certified
DOTmed 100
Kenn Matayor, Jaken Medical, Inc.
, CA
DOTmed Certified
Joseph Oliverio, Positron Corporation
, IN
Christie Loveday, Encore Global Imaging
, TN
Kevin Larcher, Larcher Medical
, NC
Satrajit Misra, Philips Healthcare
, MA