por
Loren Bonner
, DOTmed News Online Editor | June 11, 2012
From the June 2012 issue of HealthCare Business News magazine
"The Lantheus product says finally there's no need for an infusion card, no need to have this thing sitting here if I don't have a patient. I can order doses when I need them," says Webster.
Webster equates the shake-up to what happened when nuclear pharmacies came on the scene in the 1970s. They allowed hospitals to buy the products directly, instead of having a nuclear technologist on-site buying the generators and mixing the doses themselves. "The nuclear pharmacy came along and said we'll deliver the doses and syringes and you'll have more space and less paperwork," he says.

Quest Imaging Solutions provides all major brands of surgical c-arms (new and refurbished) and carries a large inventory for purchase or rent. With over 20 years in the medical equipment business we can help you fulfill your equipment needs

Dr. Hossein Jadvar, vice president of SNM PET Center of Excellence, says he expects 18 F-Flurpiridaz to receive FDA approval and when it does it "will probably change the way myocardial perfusion studies are done because it's shown that it's more accurate with PET technology."
As stand-alone PET scanners move in to dominate cardiology, and more research goes into developing new PET tracers for cardiology, OEMs will work on lowering their price point for the more expensive PET modality they manufacture: PET/CT.
In fact, this is already happening. Last year, Philips introduced the TruFlight Select PET/CT, which made Time-Of-Flight scanners economical while maintaining the TOF advantages, according to Misra. TOF, which gives clinicians a more precise reading while at the same time reducing noise, has traditionally been expensive and out of reach to the regular health care community.
"Now it's almost in striking distance of a regular PET scanner," says Misra.
Philips was able to do this by optimizing the imaging chain, allowing the company to bring down the overall costs involved with a TOF scanner while maintaining the advantages.
A new tracer, another opportunity
Cardiac imaging won't be the only area of PET to profit from new radiotracers coming to market.
"The growth of PET—or where PET is headed—depends on what kinds of tracers come to market. We see neurology as a key area for PET going forward," says Vivek Bhatt, general manager of GE Healthcare's PET business.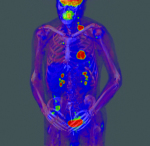 In April, the FDA approved a new radiopharmaceutical called Amyvid. It's the first tracer on the market to measure amyloid deposits in the brains of patients who have Alzheimer's, or who exhibit early symptoms of the disease. Alzheimer's is usually diagnosed by performing an MRI to look for plaque build-up, or after the fact, through autopsy by taking tissue segments of a person's brain. Amyvid works by binding to beta amyloid plaque in the brain after it's injected into a living patient, and then lighting up images of plaque in the brain with a PET scan.
"This approval marks a great advancement in nuclear medicine practice, as it enables us to evaluate the presence or absence of moderate to frequent levels of amyloid plaques in a patient's brain," says Dr. Daniel Skovronsky, president and CEO of Avid, and global brand development leader for Amyvid at Eli Lilly and Company. "In conjunction with other tests, Amyvid may help give physicians additional information when evaluating patients for the cause of their cognitive decline."