por
Diana Bradley
, Staff Writer | April 24, 2012
From the April 2012 issue of HealthCare Business News magazine
"I have seen one company selling their saline (salt water) for as much as their contrast and even making pre-filled saline syringes," says Marshall. "They are desperately trying to get dollars back in their pockets."
The amount of contrast needed continues to decline due to the new imaging technologies that make systems faster and more efficient, according to Curtis Hagg, director of sales and strategic relations for Vivid Imaging. Margins are very thin and the cost of the raw materials will make the introduction of generic contrast products difficult.

Midwest Hand Surgery Auction Closing 5/26 at 8PM. Hologic Fluoroscan Insight-FD Mini C-Arm, Nuvo Dual-Lamp Surgical Lighting System W/Control Panel, Ritter M11 Ultraclave Automatic Sterilizer & More! 2 Day Women's Treatment Center Auction Coming Soon!

"There will be a need for contrast in the near future, but I would expect the volume per patient to decline," he says.
But there are still too many procedures performed in very high volumes that necessitate contrast agents for this to have any impact at present, argues Clarke.
"Furthermore, the price point for the software required to perform these procedures is quite high," says Clarke. "Given these factors, I do not foresee this negatively impacting the contrast injector market for some time to come." Contrast enhancement is often overlooked or undervalued when considering optimal protocols and strategies for MRI and CT imaging. Over the years, scanner technologies have evolved dramatically and the cost to purchase these technologies can run from several hundred thousand dollars to several million. Yet with all that technology, an appropriate diagnostic study often comes down to being able to deliver the right contrast, to the right location, at the right time, and in the safest manner possible.
When Terry Heagy, senior device business manager of Bracco began his training as a radiologic technologist, magnetic resonance imaging had just gone mainstream. At that time, one of its key advantages was perceived to be the fact that it had no need for IV contrast.
"As we now know, MR contrast has been,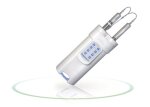 and continues to be, absolutely critical to accurately diagnosing a whole host of diseases," says Heagy. "In CT, the industry is currently focused on reducing radiation dose, which in turn may lead to further reductions in contrast dose volumes, but does not eliminate the many benefits in soft tissue differentiation IV contrast provides."
In fact, CT organ perfusion may be coming into its own very soon. The ultrasound contrast media market is another emerging segment, and one that might provide enormous potential as X-ray contrast media – which used to dominate the market – loses its sparkle, according to GIA's report. Targeted MRI and ultrasound imaging, currently under development, is predicted to progressively change the global imaging agent market.