por
John R. Fischer
, Senior Reporter | March 08, 2021
From the March 2021 issue of HealthCare Business News magazine
"Naturally every part of the patient (and parent) experience comes into play including how comfortable they were made to feel during their exams and how well the exam minimized discomfort, which can also be affected by speed and accuracy of acquiring images," said Robert Fabrizio, director of strategic marketing for medical imaging systems at FUJIFILM Medical Systems USA Inc. "Systems that are easy to operate, with automated optimization, help the technologist focus more attention on keeping the patient and parent(s) at ease."
Let's get this over with
The aim of any pediatric radiologist is to produce a quality scan as fast as possible. The sooner they do this, the sooner the child can get out of the scanner and relax. As a result, many providers look for scanners and technologies that speed up exams without decreasing the quality, such as Siemens' GOBrain protocol, an accelerated MR exam that acquires images in five minutes with just the push of a button. In a recent pilot study of children under eight, Emory University School of Medicine and Children's Healthcare of Atlanta (CHOA) found using GOBrain spared 70% of participants from being sedated.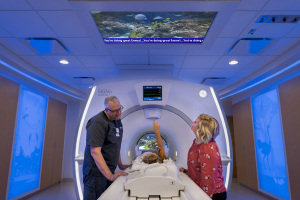 "That to me is just phenomenal when we can take away the need to administer medication, perform venipuncture or intubate a child by 70%, not just in the time and cost savings from the healthcare side of it but to calm our patients enough so they can undergo this study that would allow our physicians to appropriately follow up with care," said Jackie Morley, product manager – MRI Marketing for Siemens Healthineers North America.
Siemens also speeds up scanning of the neck and head with its Pediatric 16 coil which, when combined with its flexible coils, enables whole-body imaging while keeping children from feeling heaviness that could cause discomfort and result in unwanted movements and abandoned scans.
Seeing is believing
Altering an imaging suite's appearance can transport children (and in some cases, adult patients) into calm and relaxing environments. Character Farms does this by camouflaging and blending the room's scanning equipment, walls, floors, and ceilings into the background of beaches, nature settings and underwater paradises. The idea, according to Mark Sullivan, founder and president of Character Farms, is to distract them.