por
Gus Iversen
, Editor in Chief | November 30, 2020
Using badge scans and QR codes to populate certain necessary fields in a chart, we then work through the essential elements for reimbursement in a built-in worksheet we can complete during the patient visit. Our system then pushes those answers automatically to the EMR and PACS systems. The ease of locating past ultrasound scans via barcodes makes it far simpler to go back and add in information, too. The new system eliminated so many breaks in the chain of documentation—and it only takes one of those breaks to not be able to archive the images or lose a reimbursement.
With the new system we've already gone from that 25% of uncaptured charges to something like 10%—and we're only getting better as we continue adjusting our workflow. During this COVID period though our ED volume has decreased but our POCUS billing has increased because of Synchronicity. The attached is preliminary data and we expect to see even more improvements.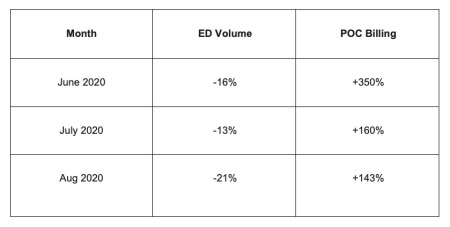 Actually, let me add another point about the revenue cycle for hospital leadership decision-makers. Reducing phantom scans obviously has a direct and quick ROI in our one department. But the revenue to the hospital overall, with its facility fees, is a multiple of the professional fees we're capturing. That increase to the bottom line—from work that is already being performed—is all the more important with COVID driving down ER volumes.
Back to HCB News