From the November 2020 issue of HealthCare Business News magazine
We must learn from countries that have started implementing blockchain-powered healthcare applications. Taiwan, a country of approximately 24 million, began implementing a blockchain based EHR nationally in September 2018. Currently, Taiwan has been able to effectively contain COVID-19 infections consistently since March, maintaining a significantly lower infection rate compared with other nations. According to the Johns Hopkins Coronavirus Resource Center online, Taiwan has recorded just over 500 known COVID-19 cases, approximately .025% of the population, and only and 7 related deaths.

Quest Imaging Solutions provides all major brands of surgical c-arms (new and refurbished) and carries a large inventory for purchase or rent. With over 20 years in the medical equipment business we can help you fulfill your equipment needs

Blockchain's impact on diagnostic imaging generally extends from the clinical data use cases. For example, the ability to track and notify appropriate imaging departments of implanted medical devices depends upon the availability and accessibility of that clinical data. Incorporating the extensive clinical data available through widespread blockchain adoption, into AI image analysis development, and subsequently released applications, may provide insights to the interpreting imaging provider which have never been achievable through current means.
Rather than moving image data, causing excessive strain on network bandwidth, high infrastructure costs, and substantial human resources to manage and maintain records release, blockchain can enable direct access to images relevant to a patient's care which is automatically granted to providers based upon predefined, granular rules. Organizations necessitating interpretations from tele-imaging service providers can pre-identify access rules for relative prior imaging without opening their entire image archives to the service provider. Patients can easily supplement their medical imaging record with self-recorded modalities such as ECGs and clinical photos, accessible to any necessary care providers.
Blockchain also promises the incorporation of imaging studies and interpretations for public health surveillance. Various countries, such as France, have used retrospective review of radiology chest imaging in investigating potential undiagnosed COVID-19 cases for origin tracing. If blockchain had already been widely adopted, regional spikes in radiology findings of atypical pneumonia, or other key terms, may have been able to alert public health officials early enough to contain the virus and prevent the pandemic.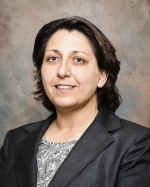 The advantages afforded by blockchain can be seen in the financial, manufacturing and retail industries, which have widely adopted its application. In line with historical technological evolutions, the healthcare industry remains at least a decade behind in developing and deploying blockchain applications. However, a growing traction has begun and is proving blockchain's ability to transform care.
About the author: Dawn Cram is the managing partner at The Gordian Knot Group, a health information technology advisory provider focused on enterprise imaging systems application development, integration and interoperability.
Back to HCB News