By Dawn Cram

Advantages from implementing blockchain within healthcare are extensive.
According to a 2018 Bisresearch study, implementation of blockchain in the healthcare industry could result in savings up to $100 billion annually by 2025. Blockchain technology can prevent data breaches, reduce the number of redundant treatments, improve research, and accelerate treatment development through greater accessibility. Expansive adoption can achieve improved population health and predictive medicine, factoring in regional, hereditary and genomic influences. Since blockchain is considered immutable, data can only be added and not modified or deleted, greater accuracy and reliance can be attained.
Less administrative work related to claims, billing and supply chain promise a significant cost reduction to providers and reduced total cost of care to patients and payers. Patient data added to the ledger, can create one universal health record for each patient, additionally allowing patients to control distribution and privacy.
Blockchain also providers a higher level of health data security than can be achieved with current, traditional system security measures. Multiple nodes across regions, countries or even worldwide, store copies of data and inherently ensure consensus in the linear-connected blocks, preventing exploitation of data. Implementation using smart contracts can manage permissions and availability at a granular level, supporting varied needs from the continuum of care for an individual patient, to the totality of worldwide public health agency monitoring and containing potential disease outbreaks, while maintaining personal health information protections.
Events of the past year emphasize healthcare's urgent need to resolve current interoperability challenges. Of all blockchain's potential benefits within the healthcare industry, perhaps the most promising is its capability for rapid acceleration to meet the Department of Health and Human Services' Office of the National Coordinator for Health Information Technology (ONC) Shared Nationwide Interoperability Roadmap.
COVID-19 highlights the urgency of attaining a learning health system, the ultimate goal driving ONC's Nationwide Interoperability Roadmap. Four of the six key use cases that the Learning Healthcare Project identified to define a learning health system can be directly solved using blockchain. Surveillance to monitor clinical data for disease outbreaks and possible treatment issues, Comparative Effectiveness Research to determine the most effective treatments, Predictive Modeling to prevent poor outcomes, and enable targeted care, and Clinical Decision Support using patient data algorithms to identify and recommend specific treatments, can all be derived from, or driven by, healthcare's blockchain adoption nationwide and globally.
We must learn from countries that have started implementing blockchain-powered healthcare applications. Taiwan, a country of approximately 24 million, began implementing a blockchain based EHR nationally in September 2018. Currently, Taiwan has been able to effectively contain COVID-19 infections consistently since March, maintaining a significantly lower infection rate compared with other nations. According to the Johns Hopkins Coronavirus Resource Center online, Taiwan has recorded just over 500 known COVID-19 cases, approximately .025% of the population, and only and 7 related deaths.
Blockchain's impact on diagnostic imaging generally extends from the clinical data use cases. For example, the ability to track and notify appropriate imaging departments of implanted medical devices depends upon the availability and accessibility of that clinical data. Incorporating the extensive clinical data available through widespread blockchain adoption, into AI image analysis development, and subsequently released applications, may provide insights to the interpreting imaging provider which have never been achievable through current means.
Rather than moving image data, causing excessive strain on network bandwidth, high infrastructure costs, and substantial human resources to manage and maintain records release, blockchain can enable direct access to images relevant to a patient's care which is automatically granted to providers based upon predefined, granular rules. Organizations necessitating interpretations from tele-imaging service providers can pre-identify access rules for relative prior imaging without opening their entire image archives to the service provider. Patients can easily supplement their medical imaging record with self-recorded modalities such as ECGs and clinical photos, accessible to any necessary care providers.
Blockchain also promises the incorporation of imaging studies and interpretations for public health surveillance. Various countries, such as France, have used retrospective review of radiology chest imaging in investigating potential undiagnosed COVID-19 cases for origin tracing. If blockchain had already been widely adopted, regional spikes in radiology findings of atypical pneumonia, or other key terms, may have been able to alert public health officials early enough to contain the virus and prevent the pandemic.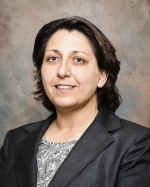 The advantages afforded by blockchain can be seen in the financial, manufacturing and retail industries, which have widely adopted its application. In line with historical technological evolutions, the healthcare industry remains at least a decade behind in developing and deploying blockchain applications. However, a growing traction has begun and is proving blockchain's ability to transform care.
About the author: Dawn Cram is the managing partner at The Gordian Knot Group, a health information technology advisory provider focused on enterprise imaging systems application development, integration and interoperability.