por
Lisa Chamoff
, Contributing Reporter | October 26, 2020
From the October 2020 issue of HealthCare Business News magazine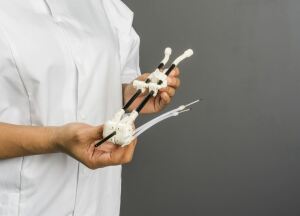 Elekta
In December 2019, Elekta received FDA 510(k) clearance for the use of diffusion-weighted imaging with the Elekta Unity high-field MR-Linac. This allows the biologic assessment of tumor response during therapy, which allows for treatment personalization, said Ioannis Panagiotelis, chief marketing and sales officer for Elekta.
In mid-July, the company received FDA 510(k) clearance for Geneva, a universal gynecological applicator for brachytherapy. Panagiotelis says the modular device allows the therapy to be tailored to each patient's unique pelvic anatomy, accommodating up to 75% of patients with cervical cancer.

Quest Imaging Solutions provides all major brands of surgical c-arms (new and refurbished) and carries a large inventory for purchase or rent. With over 20 years in the medical equipment business we can help you fulfill your equipment needs

The company also recently introduced the Leksell Gamma Knife Lightning, a treatment optimizer that automatically create plans for multiple targets.
"It takes less than a minute to create multiple plans and will allow physicians to compare plan options and select the best one," Panagiotelis said.
Elekta also has made some recent acquisitions, including of ProKnow, a company that makes cloud-based treatment planning analytics software, and Kaiku Health, which offers an app that monitors patient-reported outcomes and provides symptom tracking.
Pyrexar
Pyrexar focuses on MR-guided hyperthermia, or deep-tissue external thermal therapy, in which RF energy waves are absorbed by the tumor, causing cell vibration and cell friction, which causes the cancer cells to heat up. MR imaging provides information on heat volume. This is done in conjunction with radiotherapy for recurrent cancers.
The company recently released a new applicator for its BSD-2000 3D/MR, also called ARCH, and has developed a new water system that surrounds the patient inside the applicator with a temperature controlled bolus of deionized water.
"Surrounding the patient in water helps direct the RF energy inward instead of broadcasting like a radio station tower," said Drew Wilkens, vice president of marketing and sales for Pyrexar. "the new patient applicator and water system are intended to dramatically reduce workflow for the clinicians."
The company's products are distributed in 31 countries, though the BSD-2000 3D/MR is not yet FDA cleared. The Maryland Proton Treatment Center, Long Beach Memorial Hospital, UCSF Medical Canter and Cancer Treatment Centers of America use the company's BSD-2000.