por
John R. Fischer
, Senior Reporter | October 05, 2020
From the October 2020 issue of HealthCare Business News magazine
Many medical procedures and exams can be safely delayed during the COVID-19 pandemic, but prolonged delays in cancer treatment can lead to disease advancement and worsened outcomes.
This is especially true for patients receiving treatment for more aggressive and complex tumors — the types of tumors that proton therapy is uniquely effective against.
Proton International at UAB, the first and only proton therapy center in Alabama, has a plan ready should the day come when a cancer patient who has tested positive for the virus enters its doors.
"We would dress in full PPE," Lindsay Pruett, the center administrator, told HCB News. " We would keep only the staff necessary for that patient's care in the building, which includes two therapists, one physician and one nurse. We would have all other staff and patients leave for the day before the positive patient arrives. We would bring the patient in through a secondary entrance, not through the lobby, and bring them directly to the treatment room. We would deliver their treatment, walk them out through the same entrance, and then disinfect all surfaces as prescribed."

Quest Imaging Solutions provides all major brands of surgical c-arms (new and refurbished) and carries a large inventory for purchase or rent. With over 20 years in the medical equipment business we can help you fulfill your equipment needs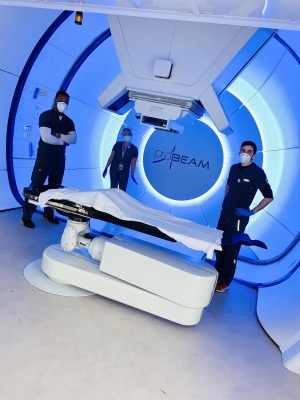 Like Proton International at UAB, proton therapy centers across the U.S. have implemented new guidelines around sanitizing and disinfection, as well as PPE and social distancing, as patient volumes begin to resume at normal levels following drops in the last few months in the number entering their facilities. Like other types of providers, the pandemic has caused the proton therapy facilities to reevaluate their day-to-day practices in how they deliver care to patients, both now and after the virus has subsided.
Preparation and planning are not only a benefit to COVID-19-positive cancer patients, but they also send the message to non-COVID patients that they can be confident in the safety of the care they're receiving.
Resuming patient visits
Cancer screenings dropped by about 90% during the first three months of the pandemic compared to where they stood a year earlier, according to The American Cancer Society. Overall, cancer care was down 35% to 40% nationally, with the reduction in screening leading to fewer referrals, which for proton therapy centers meant fewer new patients arriving for treatment.