por
Lisa Chamoff
, Contributing Reporter | March 16, 2020
From the March 2020 issue of HealthCare Business News magazine
The company will also showcase its new software features and tools for different clinical applications, such as orthopedic, spine, trauma and cardiovascular surgery.
One application for orthopedics, called Enhanced Screw Visualization, shows screws in different colors to make it easier to visualize and for physicians to communicate, said Martin Ringholz, director of global marketing for Ziehm Imaging.

Numed, a well established company in business since 1975 provides a wide range of service options including time & material service, PM only contracts, full service contracts, labor only contracts & system relocation. Call 800 96 Numed for more info.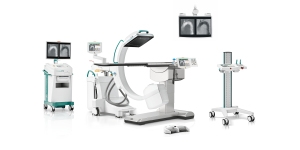 "Now we can visualize them and it's easier for the physician to say. 'Look at this blue screw,'" Ringholz said.
A new mobile cath lab concept is also one of the highlights on display in Vienna.
"Some customers use a mobile C-arm now, whereas others use a fixed cath lab," Ringholz said. "We will showcase how a mobile C-arm can be an alternative for a fixed cath lab."
Back to HCB News