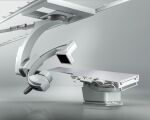 C-arms continue to slim down
March 16, 2020
by
Lisa Chamoff
, Contributing Reporter
With a continued shift to procedures taking place in outpatient surgery centers, both fixed and mini C-arms are slimming down and becoming more portable.

Manufacturers are also continuing to focus on keeping radiation dose down and providing technologists with faster and more streamlined workflows.

Here's a look at the latest releases in the C-arm space.

Canon Medical Systems USA
Canon Medical Systems USA is offering its Alphenix Aero, a slimmed-down version of its Alphenix for outpatient labs.

"It gives price-conscious outpatient labs a solution without going to a mobile C-arm," said Kristin Jones, acting managing director for the vascular business unit of Canon Medical Systems USA.

The company also has a program for its install base called Alphenix Encore Plus Program, which allows customers to upgrade to the Alphenix system by using the same footprint and potentially reusing injectors and monitors.

"We think this is a really nice program for our install base to get the advantages of a completely new system, without the price tag or construction impacts that traditionally occur," Jones said.

GE Healthcare
GE Healthcare has had a number of new introductions, including the OEC One CFD compact mobile C-arm, which brings a CMOS flat panel detector to budget-minded facilities and surgery centers for everything from vascular to orthopedic procedures.

"The flat detectors are really seen as the preferred technology and we wanted to make sure that throughout our product portfolio we have a flat detector option available to all of our customers," said Dan Strauch, chief marketing officer of GE Healthcare's surgery business. "This gives them a fully capable system, but at a lower price point, if they're opening a surgery center office for the first time or for hospital procedures."

Before last year's RSNA annual meeting, GE introduced OEC Touch, a new touchscreen user interface for the OEC Elite platform.

"Now the radiologic technologist can control all critical functions on the touch panel," Strauch said. "They don't have to go back to the workstation. For example, during a vascular procedure, a technologist may have to go to the workstation as many as 15 times in one hour, blocking the physician's view of the image each time."

For the OEC Elite CFD platform, the company also introduced a new algorithm that reduces the overall noise in a vascular or cardiac image by about 30%. Called enhanced Noise Reduction, or eNR, it "smooths out the images and reduces some of the fuzziness so the surgeon is able to see greater detail during vascular and cardiac procedures," Strauch said.

Image Diagnostics
In January of this year, Image Diagnostics released its Aspect Iso-Drive Spinal Imaging Table.

The table features the company's patented iso-centric lateral roll that allows the spinal anatomy to remain centered in the fluoroscopic field of view during lateral roll.

"Most tables roll from beneath the tabletop, [which] moves the spine from side to side," said Remo Rossi, president of Image Diagnostics. "With our table, the top and spine rotate within a cradle motion and remain in the field of view during fluoroscopy."



The design of the tabletop allows for increased flexion of the head and cervical spine.

Other tables increase flexion of the neck and spine with spinal platforms, which creates an artifact, Rossi said.

"The Iso-Drive table provides the ability to increase flexion in the cervical region of the spine without the addition of artifacts," Rossi said.

A new urology table, the Unidiagnost M, is expected to be available in the third quarter of 2020.

"We are one of a few companies that has designed and manufactured a mobile urology/cysto table that can provide an equivalent experience to using a fixed room," Rossi said.

The company's tables are designed to be part of complete systems, complementing and improving C-arm performance and diagnostic imaging outcomes, Rossi said.

Orthoscan
Orthoscan's new platform of mini C-arms, called the TAU family, were FDA-cleared in July 2019.

The new platform is dedicated to lower radiation dose, with specialized filtration including improved dose management algorithms, and includes the first mini C-arm with a specific indication for pediatric use, with 60 to 84% dose reduction over the company's FD Pulse.

"There has been a lot of good interest and excitement around the pediatric application," said Travis Prikryl, vice president of surgical sales at Orthoscan. "While it's still going to be primarily used for orthopedics, we have seen surgeons using it beyond that."

Notable children's facilities in New England and California have been using the new TAU family, Prikryl said.

Philips
Last May, Philips started marketing its Zenition mobile C-arm, a mobile C-arm platform bringing the technology for image capture and processing that was used on the Philips Azurion platform to mobile C-arm systems.

This year, the company has two new additions to the Zenition platform.

There is a new tableside user interface, which surgeons can use to operate the C-arm inside the sterile field, reducing the need to communicate with the operator, said Daniel Milliken, vice president of global marketing and strategy for image-guided therapy at Philips.

Intravascular ultrasound (IVUS) has also been integrated for peripheral vascular procedures, to help improve workflow in the OR.

The company also introduced the Azurion FlexArm, which makes it easier for the clinician to perform imaging across the whole patient in both 2D and 3D, identifying changes to the patient during complex interventional procedures.

As the clinician moves the system, the image beam automatically maintains alignment with the patient, allowing more consistent visualization and enabling them to keep their focus on the treatment, Milliken said.

"It enables physicians to treat patients on positions they wouldn't be able to previously, with multiple pivot points," Milliken said.

In December, Philips announced the millionth procedure on the FlexArm platform, and a recent study found a 30% reduction in C-arm positioning, Milliken said.

In May, Philips launched IntraSight, a new interventional applications platform. The secure, application-based platform offers a comprehensive suite of iFR, FFR, IVUS and co-registration modalities meant to simplify complex interventions and speed up routine procedures.

Siemens Healthineers
In September of last year, the FDA cleared Siemens Healthineers' ARTIS icono family of angiography systems, including the ARTIS icono biplane system for a variety of neuroradiology and abdominal imaging procedures and the ARTIS icono floor single-plane system, ideal for cardiovascular procedures.

"It's a milestone moment for us," said Jenna Brennan, head of marketing for cardiovascular solutions in the advanced therapies business at Siemens Healthineers. "A new angiography platform launches once every seven to 10 years."

The system embraces two key trends: balancing good image quality with the lowest dose and improving ease of use.

ARTIS icono includes a new imaging chain called OPTIQ that automatically provides preferred image quality at radiation doses that are as low as possible, regardless of imaging angle or patient size.

"Based on different algorithms, it will adjust for the lowest dose to achieve it, despite how large the patient is or what the C-arm angle is," Brennan said. The platform also offers personalized workflow through its Case Flows feature, allowing for standardized procedures across labs using the ARTIS icono platform.

"For a particular image acquisition, you can define all parameters so the system automatically goes to that setup," Brennan said.

There is also time savings. For femoral access, for example, what previously took 90 seconds and 17 clicks to do manually takes 33 seconds and two clicks with Case Flows, Brennan said.



STILLE
The company has released two tables tailored for use with Endoscopic Retrograde Cholangiopancreatography (ERCP) procedures, which use endoscopy and fluoroscopy to diagnose and treat certain conditions involving biliary or pancreatic ductal systems.

As with all STILLE tables, the new ERCP models are designed with mobility and versatility when used with fluoroscopic imaging equipment, said Susan Neese, vice president of sales at STILLE.

The Medstone3 ERCP and the Medstone5 ERCP are three- and five-movement tables that feature a wide tabletop and 58-inch imaging area with a 750-pound table weight capacity, which Neese said is one of the highest weight capacities on the market for mobile tables.

"Offering a wide imaging area is key to enhancing image quality and improving OR workflow during image-guided procedures like ERCP," Neese said.

STILLE has also lowered the elevation of the tables to make the table more patient accessible and ease patient transfer for the staff.

Turner X-ray
Turner X-ray's Smart-C mini C-arm is point-of-care C-arm that weighs 16 pounds, compared to the 500 to 1,000 pounds of a full-size C-arm and 350-plus pounds of a regular mini C-arm. It has a targeted use at the hospital bedside, in a surgical suite or clinic, at a post-acute care center or in the field for sports medicine, military applications and humanitarian missions.

The product debuted at the 2018 RSNA annual meeting and it received FDA 510(k) clearance in September 2019.

The Smart-C forgoes the traditional cart for a tablet user interface, it collapses to fit into a suitcase and is also battery-powered. There is a support stand and monitor cart available so that it can more readily be used in the OR environment.

"It does all the same things that the current mini C-arms do: surgery, trauma diagnosis and treatment of orthopedic injuries," said Mike Orthner, product manager for Turner X-ray. "The image quality is good or better than our competition and uses the latest CMOS detector technologies. ... We envision the clinicians using it in the office or in the field and then they're bringing it into the OR to perform surgery."

The unique portable design also allows it to be tailored for use in rural communities and during disaster treatment. The company has plans to start a no-cost humanitarian loaner program.

Ziehm Imaging
In December, Ziehm Imaging received FDA clearance for its Ziehm Vision FD. The C-arm comes with a large 31-centimeter-by-31-centimeter panel, creating a larger field of view for orthopedic and vascular surgeries.

At this year's ECR in Vienna, Ziehm Imaging will showcase its portfolio of mobile C-arms, which include Orthoscan mini C-arms and mobile hybrid suites.

The company will also showcase its new software features and tools for different clinical applications, such as orthopedic, spine, trauma and cardiovascular surgery.

One application for orthopedics, called Enhanced Screw Visualization, shows screws in different colors to make it easier to visualize and for physicians to communicate, said Martin Ringholz, director of global marketing for Ziehm Imaging.



A new mobile cath lab concept is also one of the highlights on display in Vienna.

"Some customers use a mobile C-arm now, whereas others use a fixed cath lab," Ringholz said. "We will showcase how a mobile C-arm can be an alternative for a fixed cath lab."