From the March 2020 issue of HealthCare Business News magazine
The solution to CMR's inherent complexity lies in automating the machine operation. The benefits of harnessing the power of AI to control and run the machine are clear: the software will be able to localize the heart and prescribe the standard views in mere seconds; a well-trained machine learning algorithm will produce consistent and reliable results; neural networks will review the quality of images in real time, identify artifacts, and reacquire images all on its own.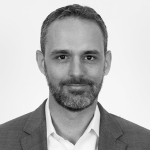 The groundswell of data supporting CMR as the best-in-class diagnostic tool is irrefutable. The rumor mill suggests that the American Heart Association is poised to release new guidelines making CMR a Class 1 indication for ischemic heart conditions, which will turbocharge CMR demand even further. It's no longer a matter of if, but when self-driving MR systems, and assisted-AI technology will bring the power of CMR imaging technology to all. AI-assisted CMRs will change the future of cardiology.

Numed, a well established company in business since 1975 provides a wide range of service options including time & material service, PM only contracts, full service contracts, labor only contracts & system relocation. Call 800 96 Numed for more info.

About the author: Itamar Kandel is the CEO of HeartVista.
Back to HCB News