por
Sean Ruck
, Contributing Editor | December 01, 2019
From the November 2019 issue of HealthCare Business News magazine
The woman arrived near death after being in labor for four days. An ultrasound revealed something no one had been aware of up until that point — she was pregnant with twins. The problem was that one of the twins was breeched, preventing either from being delivered.
With the knowledge provided by the ultrasound scan, the attending midwife was able to manually turn the baby, saving the lives of mother and twins. For Dr. Kristen DeStigter, president and co-founder of Imaging the World, and chair and healthcare service chief of radiology at University of Vermont, that was the case that stuck with her the most. "We've followed them over the years and I have seen the twins grow. I know we've impacted many lives, but that was sort of patient zero for me," she said.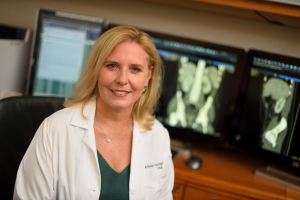 DeStigter's organization works to bring ultrasound imaging to communities in need. It has been doing its work in Uganda for more than a decade and has recently has made inroads in Malawi as well. But the story really started in Kenya. Years before Imaging the World was founded, DeStigter was a med school student at Case Western Reserve University, working in the parasite lab of what was then called the Department of Geographic Medicine. The lab was conducting a Phase II drug study of a treatment for schistosomiasis, a disease caused by parasites released by freshwater snails. That's what brought her to East Africa for the first time. It was in the late 1980s in a remote area of Kenya, about 14 hours by car to the nearest hospital. "We parked two Land Rovers with a tarp over the top and used a generator to run an ultrasound machine to check the effectiveness of the treatment by looking at the liver and the kidneys and bladder," she recalled.
When their research day ended, the doctors on the team would run a clinic. The people they'd see would present with the usual suspects of malaria, diarrhea and pneumonia, but the ultrasound machines would tell another tale that DeStigter described as heart wrenching. "We would see complicated pregnancies, things like ectopic pregnancies, breech presentations, placental abnormalities, and infections. And knowing that without proper care, these women who were 14 hours away from the nearest surgery or C-section would likely die. I carried that with me for a long time."

Quest Imaging Solutions provides all major brands of surgical c-arms (new and refurbished) and carries a large inventory for purchase or rent. With over 20 years in the medical equipment business we can help you fulfill your equipment needs