por
John R. Fischer
, Senior Reporter | October 09, 2019
From the October 2019 issue of HealthCare Business News magazine
Shielding at what cost?
Shield designs must be based on the magnetic field specifications of the scanner being installed. Without this information as a starting point, construction of the shield cannot commence.
"Until the MR vendor has provided the magnetic shield design, any design offered by the RF shielding vendor or consultant is subject to change," said Turner. "In short, the MR OEM design trumps all other designs as the magnetic shield interacts with the MR, which no one can determine with certainty except the scanner manufacturer."

Numed, a well established company in business since 1975 provides a wide range of service options including time & material service, PM only contracts, full service contracts, labor only contracts & system relocation. Call 800 96 Numed for more info.

Depending on the system being installed, shielding prices can range anywhere from $30,000 for bare basics to $250,000 for comprehensive installations that include passive shielding and sliding doors. Other factors that may add to the price include interior finishes and room modifications, as well as union or non-union site fees, the inclusion of new applications, and vendor travel costs.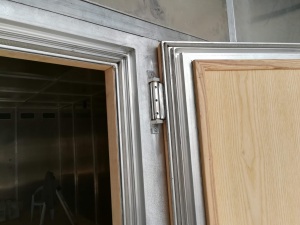 Maintenance and proper use must also be considered, as the older the shield is, the more time it will take to fix and the more costly the repairs. One cause of avoidable maintenance services, for instance, is the use of waveguides as "quick fixes" for running wires through shields.
"The right way to do it is to run them through an RF filter," said Turner. "Running wires through a waveguide is mistaken by many as a quick and easy fix, but it will create an RF leak."
Problems with doors or equipment penetration panels will be partially, if not mainly, responsible for leaks, though providers should test entire rooms to be sure. Detecting these leaks is tedious and the process must be repeated to find each one.
The best way to avoid or prepare for these scenarios is to determine how much one is willing to spend on a shield, according to Cristiano Villa, president of Istra Corp, a provider of shielding enclosures. From there you can begin to forecast what the consequences, both positive and negative, of that purchase will be over time.
"Once the magnet is installed, it will be difficult and costly to address and fix problems related to a bad cage. In fact, even though any cage works fine at the beginning, over time problems can arise," he said, adding that a good cage, or shield, typically falls in the $40,000 to $50,000 price range.