Constructing a successful MR suite is expensive business, but in the long run it's not as expensive as constructing a suite with fundamental design flaws.
Perhaps no area of the planning process is as important, or as easily overlooked, as the radiofrequency (RF) shield, which keeps out scan-distorting interference. If not planned in advance, the installation of this structure adds unnecessary expenses and confusion to the project, as well as delays to site completion and patient exams.
"Everyone is left scrambling to figure out how to accommodate the shielding into the construction process," Joel Kellogg, director of engineering for Field Management Services, told HCB News. "From an actual installation perspective, some of the most common mistakes revolve around coordination of all the different disciplines, because you may have acoustic or vibration requirements. Even just for MEP [mechanical, electrical and plumbing] requirements, putting off shielding considerations will lead to some installation challenges."
There are a lot of questions that need to be asked before embarking on a shielding job. Even when a shield is in place there are right and wrong ways to maintain it, but a well maintained shield can last a long while — even beyond the lifetime of the equipment.
The right shielding material
Choosing a shielding material depends on the provider's environment, budget and what they desire to get out of their shield. Copper is considered by many to be the best choice due to the longevity of its seam integrity versus galvanic corrosion, its price and ease of workmanship. It also is well-suited for sites that operate with regular noise frequencies due to its inherent electrical properties.
"Galvanized steel and aluminum metals are better materials for lower frequencies," said David Geiger, VP of sales for Americas at ETS-Lindgren, adding that the "selection of a material is defined by the equipment vendor and by site-specific noise that they have to attenuate."
Often supporting copper shields are wood frames that make it light, easy to carry on-site and easy to modify. Any RF shield that utilizes wood, however, is also vulnerable to water damage, with moisture from RF leaks, humidity and even air conditioning causing the wood to swell and the RF seal to break. Aluminum, in contrast, does not require a wooden structure, making it resilient to water damage. It also can create self-standing structures that can be easily disassembled and modified over time. Aluminum shielding panels, however, can rarely be modified on site if needed.
"If a super quick delivery is needed and there is little time to do drawings and go through the approval cycle, a soldered copper solution is likely the best choice," said Ben Turner, global director for RF shielding at NELCO Worldwide. "If the customer has a major construction that won't be completed for many months after the RF shield is installed, we might suggest the galvanized shield, which is less prone to accidental damage by other subcontract trades who might be working in the area."
Overlooked considerations
Building a recess into the floor is a smart way to make sure the RF shield doesn't disrupt a smooth transition into the scanner room. "In any place, particularly a hospital where you have non-ambulatory patients or may be wheeling a 300-pound undockable table with a 500-pound patient on it, that one inch speed bump can be really difficult," said Tobias Gilk, senior VP of Radiology Planning, a company that specializes in imaging facility design.
Many providers fail to consider mechanical, electrical and plumbing requirements during the design process. In some cases, a shield might be directly fixed to the wall, preventing it from being electrically isolated from the rest of the building. In many cases, doors to MR suites represent the weak points where RF leaks may occur.
"It is necessary to ensure that the door is being maintained and proper maintenance procedures are followed by trained personnel," said Howard Newman, vice president of Universal Shielding Corp. "Any modifications to the RF Shield should be done by an experienced shielded room installer."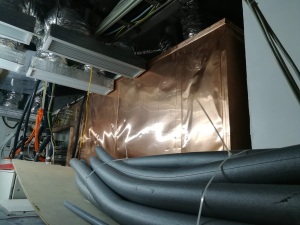 Taking the time to consider these finer points of shielding might seem unnecessary or overly meticulous now, but Gilk warns that once a problem arises you may wish you had taken these considerations more seriously.
"If you spend a million and a half dollars on a scanner and a quarter million on building out a room, all of the capital investment is specifically for the purpose of getting the best images you can," he said. "If you have an RF leak at your door, then you compromise that one-and-three-quarter-million-dollar investment."
Shielding at what cost?
Shield designs must be based on the magnetic field specifications of the scanner being installed. Without this information as a starting point, construction of the shield cannot commence.
"Until the MR vendor has provided the magnetic shield design, any design offered by the RF shielding vendor or consultant is subject to change," said Turner. "In short, the MR OEM design trumps all other designs as the magnetic shield interacts with the MR, which no one can determine with certainty except the scanner manufacturer."
Depending on the system being installed, shielding prices can range anywhere from $30,000 for bare basics to $250,000 for comprehensive installations that include passive shielding and sliding doors. Other factors that may add to the price include interior finishes and room modifications, as well as union or non-union site fees, the inclusion of new applications, and vendor travel costs.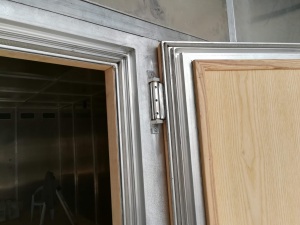 Maintenance and proper use must also be considered, as the older the shield is, the more time it will take to fix and the more costly the repairs. One cause of avoidable maintenance services, for instance, is the use of waveguides as "quick fixes" for running wires through shields.
"The right way to do it is to run them through an RF filter," said Turner. "Running wires through a waveguide is mistaken by many as a quick and easy fix, but it will create an RF leak."
Problems with doors or equipment penetration panels will be partially, if not mainly, responsible for leaks, though providers should test entire rooms to be sure. Detecting these leaks is tedious and the process must be repeated to find each one.
The best way to avoid or prepare for these scenarios is to determine how much one is willing to spend on a shield, according to Cristiano Villa, president of Istra Corp, a provider of shielding enclosures. From there you can begin to forecast what the consequences, both positive and negative, of that purchase will be over time.
"Once the magnet is installed, it will be difficult and costly to address and fix problems related to a bad cage. In fact, even though any cage works fine at the beginning, over time problems can arise," he said, adding that a good cage, or shield, typically falls in the $40,000 to $50,000 price range.
Keeping a shield in top working order means providing routine maintenance on it, according to Mike Krachon, director of sales and marketing for IMEDCO America Ltd. "This can include a monthly inspection of the door frame looking for RF finger / gasketing damage; cleaning the frame of any tarnishing or oxidation, checking for door handle sturdiness, visually looking for frame or door disfiguration; checking the compressors for cycling frequency; and draining if necessary, and inspecting supply air lines for leakage."
Looking toward a successful MR suite
Shields can last anywhere from five to 20 years, or even longer if proper installation and maintenance measures are in place. To get off on the right foot, it's advisable to work with a consultant or architect independent of shielding vendors, and to look at multiple vendor options before committing to one.
"Contacting at least five RF vendors for what they may have to offer will ensure the customer has a good picture of what is available," suggested NELCO Worldwide's Turner. "By locking yourself in a specification around one of these vendors, you preclude other, qualified ones from the project and establish a blank check for the vendor the specification is written around."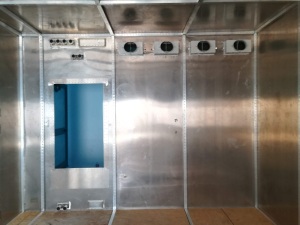 Construction of a shield should be based on the layout of the room, which affects the material the shield is made out of, how it's positioned, and the doors and wiring of the room. Another important item to keep in mind for preserving the integrity of shields is the equipment brought into the MR suite and its impact on shield performance.
"If a piece of equipment is MR-approved, the vendor that you are buying from will know and will have researched the interface piece in the shield," said ETS-Lindgren's Geiger. "If they don't know what that interface is they have not tested that system. A lot of people say it's approved because it's non-ferrous, but haven't actually checked it electrically to make sure they can get the electronics into the room."
As a last bit of advice, although it's easy to want to save pennies wherever possible when embarking on an MR suite project, sometimes it's important to think big while keeping your eye on the goal. "There are benefits to having a larger than the bare minimum observation window from the operator's console and the tech area into the MR scan room," said Radiology Planning's Gilk. "I would never advise a facility to go with the smallest option."