por
Lauren Dubinsky
, Senior Reporter | May 06, 2019
From the May 2019 issue of HealthCare Business News magazine
Obviously, service contracts come in all different forms and it's up to the hospital to select the right one for its needs. Increasingly, OEMs are introducing highly customizable service contracts to ensure that hospitals are getting all of the coverage they need and none they don't.
"Canon Medical has flexible service plans," said Andrea Hearn, head of service marketing at Canon. "For example, we can provide full service support or we can act as a backup provider and support the experts with valuable tools they need in the service delivery."

Quest Imaging Solutions provides all major brands of surgical c-arms (new and refurbished) and carries a large inventory for purchase or rent. With over 20 years in the medical equipment business we can help you fulfill your equipment needs

In some cases, a hospital may determine that it makes sense to have their HTM team enrolled in OEM training classes to help reduce the day-to-day dependence on outside support. These kinds of courses often come at a premium, so it's important for each facility to do its own homework.
"Canon Medical offers training programs at the same training center side-by-side with our engineers," said Hearn. "We want to make sure that our partners in the hospital are trained on the equipment to get the latest information for optimal results."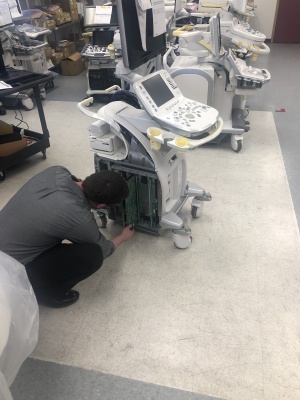 Details like that are crucial for distinguishing a worthwhile course from one that may not make a big difference in terms of in-house capabilities. Before enrolling in a course, HTM professionals should ask themselves what they are expecting to get out of it, whether the class is specifically designed for HTMs and if it's the same training that the OEM field engineers receive.
"I think if you discuss this in the beginning, then a class can be built that meets [their needs]," said Andrew McMayon, director of service at Hitachi. "Some biomeds may not have the experiences of others so I think if they are forthcoming in the beginning, they may find that they'd like the OEM to throw in some physics background to help them resolve issues on a unit."
Hitachi has started to offer more classes in an effort to become more of a partner with hospitals, specifically those that have robust clinical engineering departments that are looking to get the most out of their equipment.
"Traditionally, our training courses revolved around recently released ultrasound products, but in the last 24 months, Hitachi has created similar training programs for older units, said McMayon. "If a biomed has an interest in being trained HHA will do our best to assist,"