Efficiency is a core value in healthcare delivery, and that means building up strong communication across different groups.
We hear about the silos coming down across hospital departments, but these same principles apply to the different stakeholders in equipment maintenance.
Health technology management (HTM) professionals are tasked with maintaining equipment in-house for their facilities, but it's not something they can do on their own. Increasingly, we're seeing HTM departments and biomedical engineers forging stronger and more personalized relationships with the OEMs who built the equipment and can be called upon for more complex servicing.
Building these relationships is not always easy, however, and it's not uncommon for HTM professionals and OEM service providers to lose sight of the fact that they're in this thing together.
"I think oftentimes it's initially a bit adversarial," said Jim Piepenbrink, deputy executive director of the AAMI Foundation. "Biomeds might think they don't need a service contract because if they're given the manuals, they think they could handle it. But you both need each other and you can both learn from each other."
Courtesy is in your own best interest
The OEM field service engineer could be delayed in getting to the hospital if they are attending to another call at a hospital across town or in a rural area.
The on-site HTM may become frustrated after waiting a few hours, but Danielle McGeary, vice president of healthcare technology management at AAMI, stressed that nothing positive can come from that frustration no matter how justified it might be. The best thing to do is to remain friendly in order to maintain a good relationship with that field engineer, she said.
Issues can also arise if the on-site HTM isn't willing to help the field engineer. If the field engineer is missing a tool that is needed, the on-site HTM should assist with that if they can.
"From my experience, while there might appear to be tension at first, the OEM field service engineer and the on-site technician typically end up getting along really well," said McGeary. "If the field engineer is friendly, always wants to help, and is reliable, the on-site HTMs will like them and they will have a great relationship."
Some of the best relationships she has seen are when the on-site HTM feels comfortable calling the field engineer to have them walk the on-site staff through preliminary troubleshooting steps.
What's in your contract?
Not having a structured service agreement or contract could put a hospital lower on an OEM's priority list if that manufacturer has other customers who are paying a premium for more responsive service. In a situation like this, the HTM department may have to determine whether or not it makes sense for them to sign a similar contract or else plan for potentially slower response time.
Obviously, service contracts come in all different forms and it's up to the hospital to select the right one for its needs. Increasingly, OEMs are introducing highly customizable service contracts to ensure that hospitals are getting all of the coverage they need and none they don't.
"Canon Medical has flexible service plans," said Andrea Hearn, head of service marketing at Canon. "For example, we can provide full service support or we can act as a backup provider and support the experts with valuable tools they need in the service delivery."
In some cases, a hospital may determine that it makes sense to have their HTM team enrolled in OEM training classes to help reduce the day-to-day dependence on outside support. These kinds of courses often come at a premium, so it's important for each facility to do its own homework.
"Canon Medical offers training programs at the same training center side-by-side with our engineers," said Hearn. "We want to make sure that our partners in the hospital are trained on the equipment to get the latest information for optimal results."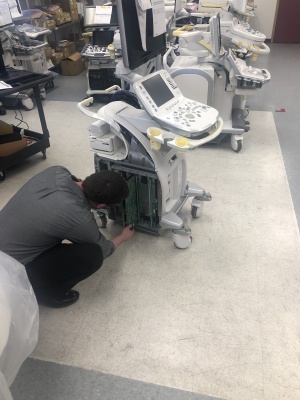 Details like that are crucial for distinguishing a worthwhile course from one that may not make a big difference in terms of in-house capabilities. Before enrolling in a course, HTM professionals should ask themselves what they are expecting to get out of it, whether the class is specifically designed for HTMs and if it's the same training that the OEM field engineers receive.
"I think if you discuss this in the beginning, then a class can be built that meets [their needs]," said Andrew McMayon, director of service at Hitachi. "Some biomeds may not have the experiences of others so I think if they are forthcoming in the beginning, they may find that they'd like the OEM to throw in some physics background to help them resolve issues on a unit."
Hitachi has started to offer more classes in an effort to become more of a partner with hospitals, specifically those that have robust clinical engineering departments that are looking to get the most out of their equipment.
"Traditionally, our training courses revolved around recently released ultrasound products, but in the last 24 months, Hitachi has created similar training programs for older units, said McMayon. "If a biomed has an interest in being trained HHA will do our best to assist,"
The evolving dynamic between OEMs and HTMs
As medical instrumentation becomes more sophisticated experts agree that the partnership between OEMs and HTMs will become more complex and should be stronger to be successful.
According to AAMI's McGeary, it's going to become more important for the hospital and OEM to sit down to find out what the hospital has for available talent and what the OEM can offer for services.
"Both parties can see where there are gaps and then try to structure some support models to help fill those gaps instead of making the engagement just a transaction," said AAMI's Piepenbrink. "OEMs need to think about how they can help organizations with that and try to iron out some of those issues in advance."
It will also become more important for the HTM departments to have relationships with field service managers and to know who their points of contacts are, such as the regional manager that covers their territory.
"As an in-house HTM, you should make as many relationships as you can within the OEM organizations and leverage them when necessary," said McGeary. "If the one field service engineer that everyone loves and counts on suddenly wins the lottery and never comes back to work, you will have another point of contact and strong relationship to call upon."
As part of nurturing those relationships, McGeary recommends that HTM managers and regional managers sit down to a meeting once per quarter to discuss all of the service calls and how long each piece of equipment was down for.
If a hospital has a preventative maintenance service contract, she said it's especially important to meet with regional OEM management to make sure that the PMs are done on time, to understand what the findings were and to verify recalls and updates are being done per contract.
"You need a mutual partnership and we all need to view each other as equals," said McGeary. "At the end of the day, it's all about ensuring the patients are getting the best care possible and that the equipment is working."