From the May 2019 issue of HealthCare Business News magazine
In addition, once a patient is connected to LTE-enabled monitoring, all of the data can be automatically fed into the patient's electronic medical record without any additional charting steps. This information will then be available to any of the patient's providers to ensure continuity of care.
LTE-enabled devices could even allow a physician to start monitoring a patient before he or she reaches the hospital door. Paramedics could hook a patient up to the device in an ambulance and the same device could follow the patient through the emergency department, into surgery and to recovery before going home with them. The possibilities of this advancement are endless.

Quest Imaging Solutions provides all major brands of surgical c-arms (new and refurbished) and carries a large inventory for purchase or rent. With over 20 years in the medical equipment business we can help you fulfill your equipment needs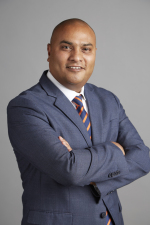 While the technology is still in its formative stages, it could lead to a rapid shift in patient monitoring over the next few years. As a result, we could see another significant drop in the average number of days Americans spend in hospitals when they need to be admitted.
About the author: Harsh Dharwad is chief technology officer for Nihon Kohden America
Back to HCB News