por
Sean Ruck
, Contributing Editor | April 10, 2015
From the April 2015 issue of HealthCare Business News magazine
The buzz today around wearable medical technology has, made it a high-growth business with a multi-billion dollar future.
But if you look a little deeper, you'll see the concept is not all that new. In fact, the advent of wearable medical technology can be traced back more than 100 years, to 1898, when the first electronic hearing aid was developed So with our eyes on the future, we would like to present 10 of the most interesting wearable medical devices on the market today. And a special "thank you" to Dr. Andrew Michael, the founder of Wearable Devices Magazine and wearabledevices.com, for suggesting several of the products included here.
Proteus Helius 'smart pills'
Biotech company Proteus has a "smart pill" system containing edible embedded microchips that can tell if patients have taken their medication via a smart-phone app. The ingestible sensor made of magnesium and copper is powered by natural stomach fluids so it's completely safe.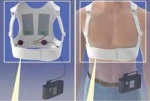 Zoll LifeVest wearable defibrillator
The LifeVest is the first wearable defibrillator. It is a treatment option for sudden cardiac arrest that offers patients advanced protection and monitoring as well as improved quality of life. Unlike an implantable cardioverter defibrillator (ICD), the Life- Vest is worn outside the body. It continuously monitors the patient's heart with dry, non-adhesive sensing electrodes to detect life-threatening abnormal heart rhythms.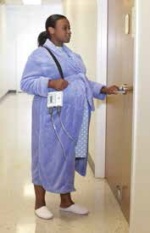 GE Healthcare Mini Telemetry system
Maternal-fetal monitoring systems in standard maternity wards often require laboring moms to be confined to hospital beds. Mini Telemetry is a completely wireless system that monitors baby and mom, and can be carried on the waist while mom moves around.