por
Diana Bradley
, Staff Writer | April 19, 2012
As product manager, Ortiz keeps his eyes peeled for new goings-on in the industry by continuously touching base with flavor houses to see if there are any trends on the horizon. He even looks to retail outlets to keep abreast of the latest and greatest flavors on offer.
Meanwhile, a pre-mixed smoothie for the naturally "harsh-tasting" oral iodinated contrast does not exist, Ortiz explains. Instead, the contrast is diluted with a flavored beverage like juice, Gatorade or even milk.

Quest Imaging Solutions provides all major brands of surgical c-arms (new and refurbished) and carries a large inventory for purchase or rent. With over 20 years in the medical equipment business we can help you fulfill your equipment needs

In 2010, Bristol, Conn.-based Beekley Corporation produced a fruit punch-flavored beverage called Breeza for oral iodinated contrast.
"Our drink does not have any pharmaceuticals in it; they mix it at the hospital," says Melissa Brutto, Beekley's product manager.
Breeza was invented by a radiologist who carried out extensive palatability testing with his own patients. He assessed different flavors and flavor combinations to ascertain patients' preference, searching out a way to help patients imbibe the contrast more easily.
But when it comes to comparing barium sulfate and oral iodinated contrast, which is better? It all depends on the patient and the condition, according to Beekley's new ventures manager, Maeghan Traboulsi.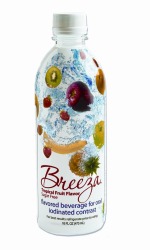 "There are benefits to using various types of contrast for different patients and/or particular cases or medical conditions, but that is at the discretion of the radiologist," she notes.
The taste of oral contrast agents really does matter and may even affect patient compliance, according to a study published in the American Journal of Roentgenology in Nov. 2010. This is exactly why companies like Bracco offer patients a multitude of flavored products.
"A lot of patients have to go through examinations quite often - up to three or four times a year," says Ortiz. "Knowing they have to keep coming back, we wanted to make sure they were satisfied with the product they are drinking."
On top of multiple visits, patients usually need to down at least three to four 12 oz. drinks to sufficiently fill the intestines and stomach with oral contrast. Bracco encourages health care professionals to carry a few different Smoothie Readi-Cat 2 flavors, because when patients have more options and are part of the selection process, they are more likely to drink the product.