The job title "taste tester" usually evokes images of some lucky so-and-so sitting around all day sampling newfangled ice cream flavors or beverages. In other words: fantasy job.
But an oral contrast flavor taster? That might be one pair of shoes job seekers won't soon be scrambling to fill. However, Tom Ortiz, product director for Bracco Diagnostics Inc.'s worldwide oral imaging business, happens to relish the opportunity.
"I try all our flavors all the time and I make my reps do the same," says Ortiz. "When everyone goes through training, they need to try everything. It gives everyone an opportunity to understand what it is exactly that we're asking patients to drink."
Doing this with a pharmaceutical agent might seem dangerous, but Ortiz denies there is any risk to taste testing barium sulfate - the substance Bracco uses. It is an inert agent, meaning the system does not absorb it.
"Even still, when the reps or I taste the product, it is like wine tasting where they sip and spit out just to get a sense for the flavoring," says Ortiz. "But preference tests are performed without the barium."
From a total market standpoint, there are only two varieties of oral contrast agents: oral iodine and barium sulfate. Ever since Covidien exited the barium market a year and a half ago, Bracco has remained the only company that currently produces barium in the U.S., according to Ortiz.
"We are the last group standing; on our own as the sole supplier for all barium sulfate products used in radiology," says Ortiz.
For over 100 years, barium technology has been used in some form or fashion in radiology. Over time, as technology has progressed -- moving from X-ray and fluoro examinations to CT -- barium utilization has declined. With a similar consistency to a milk shake, barium has a naturally chalky, bitter taste.
In 2008, when Bracco bought the company E-Z-EM, they acquired a full line of barium solutions for oral contrast: Smoothie Readi-Cat 2. These smoothies, which mask the taste of barium sulfate, come in five flavors: berry, banana, creamy vanilla, apple, and mochaccino. Berry is "by far" the most popular, notes Ortiz.
"I like the mochaccino flavor," says Ortiz. "But when you ask a whole room full of people for their favorite flavor, you get ten different answers; it just comes down to personal preference."
Apple is the least favored flavor. But one bad apple does not spoil the bunch, in this case. Informal feedback suggests that apple-flavored smoothie does have a strong following among one group in particular: chemotherapy patients.
"Radiation is obviously going to have an impact on how things taste for a patient," says Ortiz. "The apple flavor for a chemo patient may not taste at all the same for me. It is difficult to get a sense of what products are going to work for the general public, considering they won't all have gone through that type of experience."
As product manager, Ortiz keeps his eyes peeled for new goings-on in the industry by continuously touching base with flavor houses to see if there are any trends on the horizon. He even looks to retail outlets to keep abreast of the latest and greatest flavors on offer.
Meanwhile, a pre-mixed smoothie for the naturally "harsh-tasting" oral iodinated contrast does not exist, Ortiz explains. Instead, the contrast is diluted with a flavored beverage like juice, Gatorade or even milk.
In 2010, Bristol, Conn.-based Beekley Corporation produced a fruit punch-flavored beverage called Breeza for oral iodinated contrast.
"Our drink does not have any pharmaceuticals in it; they mix it at the hospital," says Melissa Brutto, Beekley's product manager.
Breeza was invented by a radiologist who carried out extensive palatability testing with his own patients. He assessed different flavors and flavor combinations to ascertain patients' preference, searching out a way to help patients imbibe the contrast more easily.
But when it comes to comparing barium sulfate and oral iodinated contrast, which is better? It all depends on the patient and the condition, according to Beekley's new ventures manager, Maeghan Traboulsi.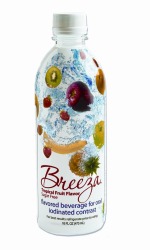 "There are benefits to using various types of contrast for different patients and/or particular cases or medical conditions, but that is at the discretion of the radiologist," she notes.
The taste of oral contrast agents really does matter and may even affect patient compliance, according to a study published in the American Journal of Roentgenology in Nov. 2010. This is exactly why companies like Bracco offer patients a multitude of flavored products.
"A lot of patients have to go through examinations quite often - up to three or four times a year," says Ortiz. "Knowing they have to keep coming back, we wanted to make sure they were satisfied with the product they are drinking."
On top of multiple visits, patients usually need to down at least three to four 12 oz. drinks to sufficiently fill the intestines and stomach with oral contrast. Bracco encourages health care professionals to carry a few different Smoothie Readi-Cat 2 flavors, because when patients have more options and are part of the selection process, they are more likely to drink the product.
"We are seeing a real trend in health care professionals and patients becoming more aware and seeing the benefits of flavored oral contrast products," says Ortiz.