por
Diana Bradley
, Staff Writer | February 13, 2012
From the January/February issue of HealthCare Business News magazine
"Today if you want to do a DR room and outfit your other rooms, you could do the other rooms with a DR retrofit," says Sbordone. "So the need for CR and DR technologies to co-mingle has been reduced dramatically for new purchases."
OEMs like Carestream can convert systems from CR to DR using the same front-end, greatly reducing the end user's learning curve. Quincy, Ill.-based Blessing Hospital has recently had six different DR upgrades or installations, including: DRX-Evolution, a fully automated DR suite; DRX-1 systems, which retrofit existing X-ray rooms with a wireless, cassette-sized detector; and DRX mobile retrofit kits, which convert existing CR-based portable imaging systems to wireless DRX detectors. Prior to this, the hospital had a Carestream CR system.

Quest Imaging Solutions provides all major brands of surgical c-arms (new and refurbished) and carries a large inventory for purchase or rent. With over 20 years in the medical equipment business we can help you fulfill your equipment needs

"It wasn't difficult [for Blessing Hospital] to convert from CR to DR," says Candace Tretter, the hospital's director of radiology services. "Our new DR system had the same front-end feel, which made the transition very easy for our radiology technicians."
For Blessing Hospital, converting from CR to DR has improved technologists' productivity and efficiency. With their old system, they had to take a CR reader, process that plate and then go back and review the image; the whole process would take six to eight minutes per image. But with their digital portable upgrade, the hospital can now review that image immediately on the console of that portable.
Mobile DR units also offer better image quality than CR for bedside chest radiography and allow for 50 percent dose reduction, according to a study published by Elsevier in May, "Computed Radiography Versus Mobile Direct Radiography for Bedside Chest Radiographs: Impact of Dose on Image Quality and Reader Agreement." This is another benefit Blessing Hospital has experienced since converting.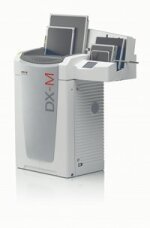 "When we initially installed the DR system, Carestream said the expectation was a 20 percent to 30 percent reduction in radiation output," says Tretter. "But we actually found when we were doing chest X-rays that we were able to reduce our radiation technique by 50 percent."
Meeting educated consumers' expectations