Gone are the days when radiology equipment manufacturers went hog-wild for film-related technologies. Today, it's a dying breed, swiftly swept aside by alternative digital technologies including computed radiography and direct radiography. But the battle for the limelight continues. Now DR is attempting to rule the market – and it's succeeding.
Last year, DR systems outsold traditional X-ray systems for non-dental medical use, according to research firm Kalorama Information's report, "Medical Imaging Markets: X-Ray, Digital X-Ray, CT and Other Radiography Systems," published in November.
"DR is definitely outselling CR," says Greg Cefalo, U.S. imaging business unit manager for Agfa HealthCare. "The DR market is probably at least a $500 million industry, while CR is worth $350 million."
With the highest growth rate in the market, revenues for DR systems are by far the largest component of the $12 billion (global figure) radiography market. And DR's growth is predicted to continue at a compound annual growth rate of 3.3 percent between 2010 and 2014, according to research firm TechNavio's "Global Digital Radiography Market 2010-2014" report, published in September. Philips Healthcare, GE Healthcare and Siemens Healthcare are the key vendors ruling the roost.
Pushing the masses towards digital is DR's technological advancement over CR. While CR requires the manual transfer of cassette-based imaging plates to a digitizing scanner for the production of digital images, DR enables automatic production of digital images after X-ray exposure, sans cassettes. DR's instantaneous ability to retrieve digital images, along with its convenience, general usability and declining cost is quickly attracting more customers.
"The preference of DR to CR is down to the fact it is more efficient and productive; has a higher detective quantum efficiency than CR, which means that DR requires less dose than CR to produce the same image; and improves patient experience, because with DR there is no waiting to evaluate images," says David Hurlock, global sales manager for Varian Medical Systems – Interay.
Overall, DR systems improve productivity of radiographic exams three times over CR systems, according to a report from 2001, "Digital Imaging Affords Major Efficiency Gains", authored by Dean DeMaster, radiology manager at Mount Auburn Hospital, Cambridge, Mass.
"DR is now the technology of choice compared to five years ago," says Rob Fabrizio, senior marketing and product development manager of Fujifilm Medical Systems U.S.A. Inc. "Hospitals are focused on DR for their new purchases, while manufacturers are focused on DR for their demand."
Rick Sbordone, CEO of Charlotte, manufacturer IMIX Americas, is certain DR will inevitably replace CR.
"Several years ago, [IMIX] chose not to get into the CR market segment, as we can't really provide innovation in that market," says Sbordone. "As a manufacturer or as any company developing a business strategy, if you can't really add value to a market segment, it's probably not the smartest thing to invest your energy into that product or technology."
CR's not out of the picture yet
While most hospitals are transitioning to DR, CR systems still have some loyal users. What works for one private practice might completely disrupt another's workflow, according to Helen Titus, worldwide marketing manager at Carestream Health.
"There is a shift away from multi-cassette readers to single cassette and tabletop readers," says Titus. "This reflects that high volume facilities like the medium and larger hospital market are not purchasing CRs; but in some smaller facilities like imaging centers, orthopedic and chiropractic centers — where the patient volume might not be as large — CR is still a good option due to price point."
The total number of rooms being utilized can also play a part in a consumer's choice between DR and CR.
"With DR, you are only applying it to the one room where it installs, so as long as that one exam room is all you need to go digital with, DR might be the right solution," says Cefalo. "Whereas, if you have multiple rooms you're trying to convert or refresh with a digital solution, a multi-plate CR might be a better, more affordable solution."
Although pickings for innovative CR technology have become increasingly slim among the lion's share of vendors, original equipment manufacturers like Agfa and Carestream are continuing to furnish fresh CR line features, according to the CR report, Winning with Service and Reliability, published by research firm KLAS last February. In particular, customers highly rate Afga's MUSICA2, an imaging algorithm, for its "crystal clear" images, along with Carestream's smaller and faster single-plate CR offerings.
"The rate of new introductions has certainly slowed down, but there is still money being invested into CR," says Titus. "We are just targeting a different market space."
Fujifilm, who introduced the first CR in the 1980s, has also recently rolled out a new tabletop CR reader and single plate CR for mammography.
"CR has been the tried and true option and its image quality is so well-refined that it gives the option to have excellent image quality, coupled with proven reliability at a very affordable price," says Fujifilm's Fabrizio. "Manufacturers that are willing [can] continue to provide CR, but at much lower prices."
The only OEM that has continued to invest in technology for multi-plate CR units is Agfa, which two years ago introduced its DX-G platform, a multi-plate CR. More recently, the company received 510(k) clearance for its DX-M platform, a digitizer that supports both standard phosphor plates and needle-based detectors.
"Agfa's CR volume has been up, but mainly on lower-priced units," says Cefalo. "CR revenues have definitely dropped as result of that. But I think everyone wants DR; it's just a question of whether or not the economics work."
While single-plate CR is perceived as a good investment
and stable market, the majority of providers still indicate a preference of DR to CR. Adding to the deck stacked against the CR market, providers making a new purchase can now do a wireless DR retrofit for about the same price.
Cost comparison: Banking on CR or DR
As less money is allocated to general X-ray, thanks to reimbursement cuts and the sour economy, customers now need to do more with less, keeping a close watch on spending.
"More and more customers are looking to extend the life of existing equipment with retrofit and versatile scalable solutions [removable detector rooms] instead of purchasing high-end turnkey rooms," says Fabrizio.
Only ten years ago, the price gap between a digital and CR system was astronomical, with a conventional room priced to the tune of $50,000 and a DR room going for at least $300,000, according to Sbordone. Justifying the greater expense was a "terrible" obstacle to overcome when DR was first introduced, he adds. DR systems still remain initially more expensive than conventional CR systems, but the good news for those watching their wallets is that DR prices have come down substantially, averaging between $125,000 and $250,000 according to Sbordone. And gains in workflow speed, image quality and dose easily help justify the cost difference compared to CR.
"We help customers understand that if you just compare the cost associated with purchasing a piece of capital equipment on a cash-basis, of course the DR system would cost more," says Sbordone. "But the real…comparison is not just capital equipment costs, but what it costs you to operate the device to provide the best clinical outcome."
A conventional CR room requires film, storage jackets, film storage units, view boxes to read the film and extra people to carry the film. When you look at what it costs to operate that equipment day in and day out, the cost of a DR room is justified, according to Sbordone. Further to this, OEMs like IMIX can take a $50,000 conventional room and for another $40,000 make it a DR room.
"Our consumer market is educated now and for the most part understands the financial benefits and value of having DR over film or CR," Sbordone says.
But while DR rapidly gains popularity and comes down in price, CR prices are also coming down. As a result, CR is still holding a share of the market, albeit it's a shrinking one.
"Many small practices already have CR or just can't justify the difference in price," says Fabrizio.
In the end, it all comes down to proper planning and mathematics for those weighing whether a DR or CR system will provide what's needed for their facility. Also, potential buyers need to be aware of the long-term total cost of ownership.
"Most customers think a completely digital room will last as long as an analog room (25 years)," says Cefalo. "But everything in a DR room – electronic stuff including PCs and DR panels – will wear out more quickly than an analog room. When you add all those things up, the total long-term cost of ownership may not be what people planned for."
And the cost to replace damaged equipment is also an important consideration. To completely replace a CR plate costs an estimated $2,000, whereas if a customer damages a portable DR plate and they don't have the right kind of service contract or replacement coverage, the customer could face a massive liability. To counteract this, most OEMs offer coverage programs protecting customers' investments.
If a DR panel is one that needs to be moved or rotated, the risk of it being dropped is higher. Aside from drop insurance, OEMs occasionally offer non-portable DR products and protective encasements to minimize damage risk. IMIX sells fixed detectors and encasements for tethered and wireless portable detectors that fit on their X-ray devices. Flat panel detectors made with amorphous silicon architecture can also alleviate fragility concerns, according to Varian's Hurlock.
"Our panels manufactured with amorphous silicon are not particularly sensitive to temperature variations, they don't suffer image degradation over time and they pass a one-meter drop test," he says.
Converting: Old habits die easy
In the past, the trend for many manufacturers was to integrate CR and DR, creating graphic user interfaces similar enough to reduce a learning curve for customers trying to transition, according to Sbordone. If a customer wanted to buy a DR room for a new room replacement, they would buy CR for their other rooms that were still in good condition so they could "go digital" in an affordable manner. But with DR prices decreasing, this is no longer the case.
"Today if you want to do a DR room and outfit your other rooms, you could do the other rooms with a DR retrofit," says Sbordone. "So the need for CR and DR technologies to co-mingle has been reduced dramatically for new purchases."
OEMs like Carestream can convert systems from CR to DR using the same front-end, greatly reducing the end user's learning curve. Quincy, Ill.-based Blessing Hospital has recently had six different DR upgrades or installations, including: DRX-Evolution, a fully automated DR suite; DRX-1 systems, which retrofit existing X-ray rooms with a wireless, cassette-sized detector; and DRX mobile retrofit kits, which convert existing CR-based portable imaging systems to wireless DRX detectors. Prior to this, the hospital had a Carestream CR system.
"It wasn't difficult [for Blessing Hospital] to convert from CR to DR," says Candace Tretter, the hospital's director of radiology services. "Our new DR system had the same front-end feel, which made the transition very easy for our radiology technicians."
For Blessing Hospital, converting from CR to DR has improved technologists' productivity and efficiency. With their old system, they had to take a CR reader, process that plate and then go back and review the image; the whole process would take six to eight minutes per image. But with their digital portable upgrade, the hospital can now review that image immediately on the console of that portable.
Mobile DR units also offer better image quality than CR for bedside chest radiography and allow for 50 percent dose reduction, according to a study published by Elsevier in May, "Computed Radiography Versus Mobile Direct Radiography for Bedside Chest Radiographs: Impact of Dose on Image Quality and Reader Agreement." This is another benefit Blessing Hospital has experienced since converting.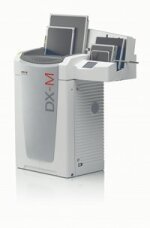 "When we initially installed the DR system, Carestream said the expectation was a 20 percent to 30 percent reduction in radiation output," says Tretter. "But we actually found when we were doing chest X-rays that we were able to reduce our radiation technique by 50 percent."
Meeting educated consumers' expectations
Digital technology in general has come of age for the global environment in every facet of life. People who never dreamed about operating electronic devices a couple of years ago are now reading books on a Kindle, or shopping, banking and Skype-ing on smartphones – and these devices usually get everything done with the touch of one button.
"People expect more done with less complexity," says Sbordone. "They want to walk into a room, scratch their head for 30 seconds and figure out how to take an X-ray."
Hand-in-hand with the trend in digital technology is portable or mobile adoption. The utilization of mobile devices, not only for quick-reads, but also for control systems and use within theaters is exploding, according to Robert Shaughnessy, chief technology officer of Circadence in Boulder, Colo.
"The pace of mobile adoption is faster and more accelerative than any other technology I have seen in 30 years," he says. "Organizations of all sizes are struggling to adapt to that changing dynamic."
At November's Radiological Society of North America conference, there was a big buzz industry-wide about wireless detectors, detector weight and size, along with eliminating the cord. According to Fabrizio, these are the biggest influences in the shift to DR.
"The lines between CR and DR are blurring further with the simplification of DR to lightweight, wireless, battery-operated detectors in sizes that fit traditional cassette systems without modifications," he says.
Staying ahead of the game
In today's health care environment, imaging facilities are recognizing the importance of efficiency and doing more with less, making their imaging suites more productive and imaging more patients in less time. Looking ahead, the CR market's biggest trial will be continuing to make a profit, as prices and volume rapidly descend.
"The efficiency of DR is compelling in today's health care environment," says Hurlock.
DOTmed Registered DMBN Feb. 2012 DR/CR Companies
Names in boldface are Premium Listings.
Domestic
Doug Anderson, DGA Medical,LLC
, AZ
Richard Flannery, EP Radiological Services Inc.
, CA
Ted Huss, Medical Imaging Resources
, CA
DOTmed Certified
Michael Winters, Detail Imaging
, FL
Rodolfo Gutierrez, EMI America Miami Medical Equipment
, FL
DOTmed Certified
Moshe Alkalay, Hi Tech Int'l Group
, FL
DOTmed Certified
David Denholtz, Integrity Medical Systems, Inc.
, FL
DOTmed Certified
DOTmed 100
Ed Ruth, Managed Medical Imaging
, FL
DOTmed Certified
Yvan Degomme, Proximus Medical
, FL
DOTmed Certified
Olga De La Paz, Puma Export, Inc.
, FL
Larry Sprague, Imaging Resources
, GA
Davyn McGuire, Med Exchange International, Inc.
, MA
DOTmed Certified
DOTmed 100
Joseph Jenkins, International Imaging Ltd.
, NV
Mudi Ramesh, Anamika Medical
, NY
DOTmed Certified
Robert Muzzio, GXC Imaging
, NY
Michael Lies, Medical Advantages Inc.
, PA
DOTmed Certified
Ted Huss, Medical Imaging Resources
, CA
DOTmed Certified
Moshe Alkalay, Hi Tech Int'l Group
, FL
DOTmed Certified
Ed Ruth, Managed Medical Imaging
, FL
DOTmed Certified
Rodolfo Gutierrez, EMI America Miami Medical Equipment
, FL
DOTmed Certified
David Denholtz, Integrity Medical Systems, Inc.
, FL
DOTmed Certified
DM100
Olga De La Paz, Puma Export Inc.
, FL
Yvan Degomme, Proximus Medical
, FL
DOTmed Certified
Robert Serros, Amber Diagnostics
, FL
DM100
Amber Trombley, GE Walker
, FL
David Hurlock, Varian Medical Systems - Iteray
, SC
Robert Manetta, Nationwide Imaging Services
, NJ
DOTmed Certified
DM100
Doug Steers, Source Ray Inc.
, NY
Larry Sprague, Imaging Resources
, GA
Brett Schaeffer, NHD
, OH
Neal Thompson, JD Imaging Corp.
, IL
Steve Walsh, Eastern Diagnostic Imaging
, MA
Davyn McGuire, Med Exchange International
, MA
DOTmed Certified
DM100
Sal Aidone, Deccaid Servies, Inc.
, IL
DOTmed Certified
Ted Turano, X-Stream Medical Inc.
, TX
DOTmed Certified
DM100
Michael Winters, Detail Imaging
, TFL
Rick Sbordone, IMIX Americas
, NC
Ronny Bachrach, Viztek
, NC
Helen Titus, Carestream Health
, NY
Michael Ryan, VB Ryan
, GA
Greg Cefalo, Afga Healthcare
, SC
Doug Anderson, DGA Medical LLC
, AZ
Richard Flannery, EP Radiological Services Inc.
, CA
Kenn Matayor, Jaken Medical, Inc.
, CA
Klaus Kraemer, Multi Imaging Systems Inc.
, CA
Aaron Ybarra, Toshiba America Medical Systems, Inc.
, CA
Rob Fabrizio, FUJIFILM Medical Systems
, CT
International
Mads Vittrup, AGITO Medical
, Denmark
DOTmed 100
Ali Latayan, Claymount Assemblies
, Philippines
Delia So, Intelerad
, Canada