por
Diana Bradley
, Staff Writer | February 21, 2012
From the January/February issue of HealthCare Business News magazine
"Although paper-based health information breaches must now be disclosed under the breach notification provision under the HITECH Act, electronic data breaches occur three times more frequently and affect 25 times more people when they occur," James Koenig, director and co-leader, Health Information Privacy and Security Practice, PwC, said in a statement.
In Ponemon Institute LLC's December report, "Second Annual Benchmark Study on Patient Privacy & Data Security," the number of respondents that believe EHRs have made patient data more secure dropped from 74 percent to 67 percent in 2011, with 19 percent of respondents saying EHR has made no difference in the security of patient data. The number of health data breaches increased by 32 percent in 2011, costing the industry about $6.5 billion, according to the report.

Quest Imaging Solutions provides all major brands of surgical c-arms (new and refurbished) and carries a large inventory for purchase or rent. With over 20 years in the medical equipment business we can help you fulfill your equipment needs

"I don't think a day goes by where I'm not reading about a data breach," says Zobel. "Most physicians today work in independent practices and patient records sit on a PC under the administrator's desk in an unlocked room. When you move that to the cloud, it completely removes that risk."
As health organizations scramble to move to EHRs and meet regulatory deadlines, this could lead to the utilization of inadequate software, exposing physicians to a greater risk of malpractice lawsuits, according to the white paper, "Do EHRs Increase Liability?" published by the AC Group, a Texas-based health information technology research and consulting firm, in November.
"Everyone is worried about rushing to adopt; as [rapper] Chuck D said, 'Don't believe the hype,'" says Dr. Jonathan Bertman, president and founder of EHR software vendor AmazingCharts.com, Inc. "Don't rush and don't cut corners. Find an EHR that is clearly usable for you, that you can clearly afford and that you know other clinicians have said good things about."
Of 42 ambulatory EHRs, almost 90 percent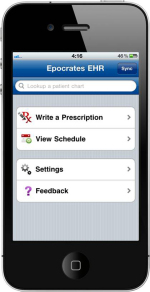 could not provide drug-lab alerts; more than 80 percent did no interaction checking during the prescription refill process; and 60 percent failed to automatically update clinical decision support to reflect changes in recommended treatments, according to the AC Group.
"I think the general public is as concerned with EHRs as they were with online banking years ago," says Dr. Tom Giannulli, chief medical information officer of Epocrates, San Mateo, Calif. "It's just a matter of time, experience and the lack of any major problems that will help spur growth."