An unconscious woman arrives at a hospital emergency room. The doctor examines the patient and ascertains that she needs a blood thinner. He quickly checks the patient's electronic medical record and sees that she has a history of a clotting disorder. Had the doctor administered a blood thinner, the patient would have died.
"This is one of numerous cases where users have told us, 'I would have killed my patient today if I hadn't used Practice Fusion,'" says Ryan Howard, founder and CEO of Practice Fusion, the fastest growing web-based EMR community in the U.S.
American patients see 18.7 different doctors throughout their lives, which means the average patient's health is dependent on at least 200 pieces of paper in almost 19 different locations, according to a survey conducted by research firm GfK Roper for Practice Fusion in April 2010. It comes as no surprise then, that each year there are 195,000 deaths in the U.S. because medical data is unavailable, says Howard. It is the aim of electronic health records and electronic medical records to bring this tragic trend to a grinding halt.
While digitalizing health records seems like a no-brainer at first glance, the way the market has misinterpreted EMRs and EHRs is enough to make anyone take pause. As defined by HIMSS Analytics in a 2006 white paper, an electronic medical record is a legal record created by hospitals and ambulatory environments. This acts as a data source for the electronic health record, under which all patients have one digitalized tracking report from birth to death, including information from every medical encounter the patient makes – from a visit to a specialist to a trip to the ER. Physicians have access to patient demographics, progress notes, ailments and medications, past medical history, immunizations, laboratory data and radiology reports, along with evidence-based decision support, quality management, and outcomes support. And patients have more access to their records and can see physicians' updates in real time. Although EMRs and EHRs aren't the same, these monikers are often used interchangeably by vendors, the press, the U.S. government and the health care industry, just to add to the confusion.
This lack of understanding may be why not everyone has opted to make the leap onto the proverbial digital health records bandwagon, suggests Howard.
"I think a lot of customers have never even seen an EMR," he says. "They don't really know what to expect and a lot of that comes down to the vendor to make sure the product has all the necessary functionality."
But more and more physicians are catching on and EHR adoption is on the rise. Between 2001 and 2011, office-based physicians' adoption of electronic health records rose from 18 to 57 percent, doubling over the past three years, with one in three currently using a basic system, according to the Centers for Disease Control and Prevention. By 2016, the utilization of EHR systems will swell to over 80 percent, anticipates research firm IDC Health Insights in its November report entitled, "IDC MarketScape: U.S. Ambulatory EMR/EHR for Midsize and Large Practices 2011 Vendor Assessment."
Regulations and incentives
Massive fees usually accompany the transition from paper to digital medical records, with the average EHR implementation ranging from $2 to $16 million, according to a December Kaiser Health News report. Primarily responsible for EHR's booming presence is the 2009 federal economic stimulus package – under which, health care providers who digitize and have a decent-sized pool of Medicare or Medicaid patients can qualify for health information technology granting economic and clinical health incentive payments totaling up to $27 billion over 10 years, or as much as $44,000 per clinician through Medicare and $63,750 per physician through Medicaid. This incentive is called "meaningful use" and covers the costs associated with going digital and bringing staff up-to-speed.
The three main components of meaningful use, as defined by the American Recovery and Reinvestment Act of 2009, are: the use of a certified EHR in a meaningful manner, such as e-prescribing; the use of certified EHR technology for electronic exchange of health information to improve health care quality; and the use of certified EHR technology to submit clinical quality and other measures. Over the next five years, the criteria for meaningful use will be staged in three steps: Stage 1 (2011 and 2012) sets the baseline for information sharing and electronic data capture; Stage 2 (2013) and Stage 3 (2015) will be developed through future rulemaking and continue to expand on this baseline.
Medicare incentives for demonstrating meaningful use of EHRs have amounted to $920.3 million, while Medicaid payments for providers to adopt, implement and upgrade their EHRs reached an estimated $916 million for a total of $1.8 billion, according to the Centers for Medicare and Medicaid Services December 2011 EHR Incentive Program report. As of December, CMS had paid incentives to 10,566 Medicare providers and 12,070 Medicaid providers, with 769 hospitals attesting successfully. Of the 21,308 physicians who had verified their meaningful use demonstration, 444 were unsuccessful, failing to meet the required threshold for one or more objectives. 52 percent of physicians reported they are planning to apply for the meaningful use incentives, up from 41 percent in 2010, according to a November National Center for Health Statistics data brief. CMS anticipates that more physicians will get on board the closer it gets to Feb. 29, as they can attest for 2011 payments up to that date.
"Legislation and mandates relating to meaningful use have created more of an interest in this space," says Steven Zobel, vice president of product development for ADP AdvancedMD. "But providers are more technologically savvy; they are realizing they want to have a true digital solution rather than dad's old clipboard and paper."
Further government mandates affecting EHRs include ANSI 5010 – the new version of HIPAA transaction standards, that regulates the electronic transmission of health care transactions, replacing the existing version and addressing many of the shortcomings in the current version, including the fact that 4010 does not support the forthcoming 10th Revision of the International Statistical Classification of Diseases and Related Health Problems coding. As of Jan. 1, practices needed to complete electronic transactions in an ANSI 5010-compliant format.
ICD-10 raises the number of codes from 18,000 to 140,000, which describe medical services in bills hospitals send to insurers. The codes will be so detailed that they include patient injuries in chicken coops and opera houses. ICD-10 will officially be implemented on Oct. 1, 2013.
"The transition to ICD-10 is going to be significant," says Bob Larson, director of market analysis for NextGen Healthcare. "People are going to have to train their end-users on how their EHR software is going to change, in order to get their incentives."
These moving regulatory targets are the biggest challenge facing the EHR sector, according to Zobel.
"It's just ridiculous — as the codes are changing it's adding so much more complexity into this space," says Zobel.
The Heart and Vascular Center of Arizona was actually providing doctors with more information than the government designated, but even they had to change their workflow to go along with new regulations, according to the practice's administrator Barbara Watkins.
"All of these regulations have not been user-friendly for our practice," she says. "We need to have a team of individuals constantly making sure we are following the latest regulations. For small and medium practices, this can be daunting."
Benefits and improvements
While many physicians have yet to meet criteria for meaningful use and other government mandates, many have at least begun using EHRs independent of financial incentives.
"Practices fully embracing EHRs are doing it for a lot of reasons other than those stimulus dollars," says Jim Elliot, ADP AdvancedMD's vice president of marketing. "It truly can improve a practice's return on investment and transform their workflow."
The Heart and Vascular Center of Arizona had the foresight to go live in June 2008 with their EMR – GE's Centricity Practice Solution – before the regulations began. The practice attested to meaningful use last April. An immediate change hit the practice after EMR implementation.
"Our practice has responded very positively to EMR use and the efficiency it provides," says Watkins. "Our provider's documentation is vastly improved by utilization of the EMR. We also use our support staff more efficiently and they are able to assist the physicians with some of the documentation gathering prior to the actual office visit. It's all about how you use the product and having the proper workflows and training in place."
Taking into account staff time, printing and mailing costs, Watkins found releasing medical records pre-EMR to be quite pricey. Now her practice can release information via a portal, lightening the administrative workload.
"Finding a chart and giving a patient or referring physician a quick answer or update used to be time consuming and expensive," says Watkins. "We can communicate quickly and efficiently with our EHR as you can always find the chart. We also feel patient communication, release of medical records and online bill pay are all a breeze with our integrated patient portal."
Another EHR benefit was made apparent in April when a tornado damaged three centers — all of which had to be temporarily abandoned — that belonged to the same medical practice in Alabama. Thanks to ADP AdvancedMD's cloud-based EHR solution, the clinic administrator, Becky Horton, was able to grab a laptop and access all of the medical data, patient records, billing information and clinical data from a nearby library. And data was current because it's backed-up every hour. This ensured employees received their paychecks and patients and doctors could continue to give and receive needed care.
Security and malpractice concerns
Cybersecurity was a hot topic in 2011, with attacks, breaches and general security issues rife in the news. And the majority of health organizations are not exempt from this danger, according to PricewaterhouseCoopers Health Research Institute's September report, "Old Data Learns New Tricks: Managing Patient Privacy and Security on a New Data-Sharing Playground." As EHR adoption increases, so will cyber attacks on health data.
Over the past two years, theft accounted for 66 percent of total reported health breaches; and 54 percent of health organizations surveyed reported at least one issue with information privacy and security, says the report.
"Although paper-based health information breaches must now be disclosed under the breach notification provision under the HITECH Act, electronic data breaches occur three times more frequently and affect 25 times more people when they occur," James Koenig, director and co-leader, Health Information Privacy and Security Practice, PwC, said in a statement.
In Ponemon Institute LLC's December report, "Second Annual Benchmark Study on Patient Privacy & Data Security," the number of respondents that believe EHRs have made patient data more secure dropped from 74 percent to 67 percent in 2011, with 19 percent of respondents saying EHR has made no difference in the security of patient data. The number of health data breaches increased by 32 percent in 2011, costing the industry about $6.5 billion, according to the report.
"I don't think a day goes by where I'm not reading about a data breach," says Zobel. "Most physicians today work in independent practices and patient records sit on a PC under the administrator's desk in an unlocked room. When you move that to the cloud, it completely removes that risk."
As health organizations scramble to move to EHRs and meet regulatory deadlines, this could lead to the utilization of inadequate software, exposing physicians to a greater risk of malpractice lawsuits, according to the white paper, "Do EHRs Increase Liability?" published by the AC Group, a Texas-based health information technology research and consulting firm, in November.
"Everyone is worried about rushing to adopt; as [rapper] Chuck D said, 'Don't believe the hype,'" says Dr. Jonathan Bertman, president and founder of EHR software vendor AmazingCharts.com, Inc. "Don't rush and don't cut corners. Find an EHR that is clearly usable for you, that you can clearly afford and that you know other clinicians have said good things about."
Of 42 ambulatory EHRs, almost 90 percent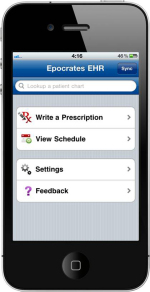 could not provide drug-lab alerts; more than 80 percent did no interaction checking during the prescription refill process; and 60 percent failed to automatically update clinical decision support to reflect changes in recommended treatments, according to the AC Group.
"I think the general public is as concerned with EHRs as they were with online banking years ago," says Dr. Tom Giannulli, chief medical information officer of Epocrates, San Mateo, Calif. "It's just a matter of time, experience and the lack of any major problems that will help spur growth."
Top vendors and advice
IDC Health Insights' report commended vendors that have devised EHRs with enhanced functionality, including: NextGen Healthcare, whose EHR offers decision support and reporting capabilities, along with customizable workflows and templates; eClinicalWorks, whose EHR can be used on mobile devices; Cerner, for its PowerChart EHR tool – a software-as-a-service application supporting more than 30 medical specialties; and Sage Healthcare Division, for its Intergy EHR, offering clinical functionality and integrating practice management tools through a single database.
Meanwhile, the 2011 Best in KLAS Awards in December rated Amazing Charts the best vendor for practices with 1-10 physicians; Athenahealth as the number one vendor among practices with 11-75 physicians; and Epic as the wisest choice for practices with more than 75 physicians.
"When choosing an EHR solution, customers are looking for something that is going to be easy to use, that doesn't slow staff down too much, and that's going to deliver a degree of clinical sophistication to make sure they improve patient care," says Reed Liggin, president of RazorInsights, Kennesaw, Ga., provider of cloud-based EHR solutions.
Based on the fact they are easy to implement and priced less than traditional client server systems, which can cost around $20,000 per doctor, cloud-based EHR solutions like Epocrates are gaining traction, according to Giannulli.
"Cloud-based products come in much lower, a couple of thousand dollars a year for everything," he says.
Costs and vendors aside, it is the providers themselves that inevitably make or break an EHR system.
"Even if you have the best EHR solution out there, if you don't take ownership and are not willing to use it, you're going to find yourselves with a lot of money spent and no results," says Leon Hoover, CIO, Hendry Regional Medical Center, who was a recent winner of Health Data Management's 2nd Annual EHR Game Changers award for overseeing two large expansion products — including the implementation of an EHR solution — to bring the hospital into a state of the art facility.
Hendry Regional Medical Center is a 60-year-old critical access hospital, serving a community where there are no other hospitals in a 25-mile radius. After implementing their EHR system last June, the Center is just about ready to meet meaningful use.
"Workflow processes have to change completely when you go from a paper-oriented medical record to an electronic one," says Hoover. "But we are running very well, eliminating the possibility of medical errors and those kinds of things that come with having an automated system."
Over the next two years, the 20 percent growth anticipated in the EHR market will be a mix of newcomers and replacement of older technology, according to Giannilli. Usability will be a key factor in EHR's success.
"Mobility will become a huge factor and next year, we believe the tablet will become critical at the point of care, while out-of-office mobile requirements on smartphones become commonplace," Giannulli says.
DOTmed Registered DMBN Feb. 2012 EHR/EMR Companies
Names in boldface are Premium Listings.
Sabas Rodriguez, Practice Fusion
, San Francisco, CA
Brenda Stewart, Merge Healthcare
, Chicago, IL
Kyle Christensen, Optuminsight
, Eden Prairie, MN
Helen Titus, Carestream
, Rochester, NY
Amy DeMarco, Henry Schein MicroMD,
, Youngstown, OH
Jan Johnson, ADP AdvancedMD,
, Salt Lake City, UT
International
Debora Smith, McKesson Corporation
, Richmond, BC Canada