por
Keith Loria
, Reporter | March 04, 2009
This report originally appeared in the February 2009 issue of DOTmed Business News
It has been 95 years since Henry Ford created the first assembly line. Since then, industries have concentrated on fine-tuning the process to improve manufacturing techniques. One such manufacturing innovation-called lean manufacturing, was invented by the founders of Toyota and so it is also known as the Toyota Production System.
Lean manufacturing is a manufacturing strategy that seeks to produce a high level of throughput with a minimum of inventory. The term "lean manufacturing" centers on placing small stockpiles of inventory in strategic locations around the assembly line, instead of in centralized warehouses. These small stockpiles are known as kanban, and the use of the kanban significantly lowers waste and enhances productivity on the factory floor.

Numed, a well established company in business since 1975 provides a wide range of service options including time & material service, PM only contracts, full service contracts, labor only contracts & system relocation. Call 800 96 Numed for more info.

Although car companies were the businesses that found the earliest successes with lean manufacturing, through the years other companies, including many involved in the medical industry, have found success with the process. You see, lean manufacturing is not about cars at all. Granted, it was Toyota that really excelled at driving this into the culture, but not because they made cars, but because of the company's constancy of purpose around a specific management philosophy and culture.
"It's a myth that lean is about Toyota, that's just what all the press is on, but there are actually companies out there that are much better and some of them are medical companies," says Kevin Duggan, president of Duggan Associates and founder of the Institute for Operational Excellence, which teaches lean principals. "Medical device companies have achieved significant improvement using lean techniques. Improvements in quality, productivity, lead time, inventory, on-time delivery, and cost have been obtained and further improvement continues."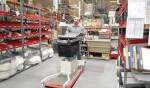 The success that these medical device manufacturers are enjoying allows them to stop chasing quality problems, parts, or suppliers, and instead spend their time and resources developing new products, breaking into new markets, and strategizing on how to grow their business.