A substantial proportion of the teleradiology market is served in-house; our analysis of the "Top 20" teleradiology reading service providers (based on annual volumes) shows that around 40% of vendors were using self-developed IT, almost 20% were using a combination of self-developed IT and third-party IT, and the remaining 40% relied solely on third-party IT.
However, the "captive" IT market (i.e., the effective value of that IT business had it been provided on a commercial basis by companies in the Reading Service Provider – Self Developed IT category) is anticipated to gradually decline moving forward, as increasingly off-the-shelf, third-party IT solutions are purchased. Overhead costs associated with the continuous development of IT solutions could, in fact, become a burden for the reading services providers developing their own IT; namely vendors included in the "Full-stack" and "Reading Service Provider – Self Developed IT" company types, particularly for the latter; whilst this group of vendors may gain a competitive advantage by choosing not to make the IT commercially available at scale to competitors, the drawback is that their IT does not generate additional revenue.

Numed, a well established company in business since 1975 provides a wide range of service options including time & material service, PM only contracts, full service contracts, labor only contracts & system relocation. Call 800 96 Numed for more info.

Therefore, it is anticipated that over the forecast period of our Teleradiology – World – 2021 report, there will be a gradual trend toward IT vendors selling their standard imaging IT products or solutions tailored for teleradiology, to teleradiology reading service providers.
Teleradiology Vendors Will Continue to Partner with AI Specialists
As discussed in our previous insight, technology advances relating to AI will have an increasingly positive impact on the success of teleradiology reading service providers. There is a growing trend for strategic partnerships between reading service providers, IT suppliers and AI algorithm developers, with the aim of improving workflow and decision support processes, and the accuracy/speed of radiologist reports. There are very few examples of teleradiology vendors developing AI in-house due to the associated development costs highlighted above, and so it is anticipated that vendors will increasingly partner with AI specialists. The table below highlights some examples of these partnerships: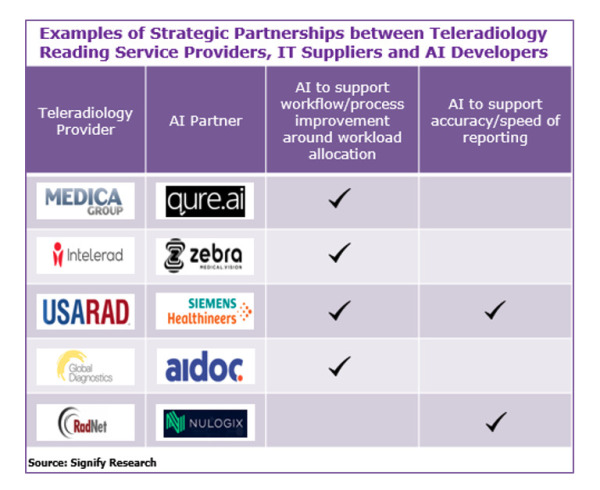 COVID-19 Impact on Teleradiology Vendors
The rapid decline in global elective diagnostic imaging procedures during 2020 due to COVID-19, and subsequent second and third wave of rising cases in several countries throughout H2 2020, resulted in a significant drop-off in non-urgent imaging volumes. Whilst teleradiology is used to service out-of-hours reading services and has been sheltered to some extent from this impact, greater hospital/imaging centre capacity caused by lower procedure volumes resulted in teleradiology reading service providers experiencing a significant drop in the number of reading volumes. As highlighted in our previous insight, the decline of vRad's imaging volumes by c. 55% in April 2020 is just one example of dramatic declines reported by several vendors.
However, the outlook for the teleradiology market and its vendors remains positive. Unprecedented challenges that healthcare providers (radiology groups, imaging centres, hospitals, etc.) have faced over the past year have contributed to their seeking improvements, particularly in terms of radiologist utilisation and operational efficiency. Additionally, the December 2020 Centers for Medicare and Medicaid Services (CMS) announcement to drastically cut diagnostic radiology reimbursement by 10% in 2021 will place further pressure on U.S. healthcare providers to downsize their internal workforce and outsource outpatient imaging, with increased demand for teleradiology a likely outcome.
Outlook for World Teleradiology Market Competitive Environment
There has certainly been an accelerating trend of consolidation of outpatient radiology groups and teleradiology reading service providers, particularly in the U.S., and demonstrated with the M&A activity highlighted above involving companies such as Philips (Direct Radiology) and Radiology Partners (MEDNAX/vRad). Whilst future acquisitions are gradually expected to take place in this dynamic teleradiology environment, it is unlikely to significantly alter the high level of fragmentation amongst the global supplier base, dominated by local providers.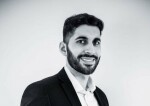 About the Report
April 2021 will see Signify Research publish its Teleradiology – World – 2021 market report. The report will examine the penetration that teleradiology has made into the overall number of diagnostic imaging procedures performed globally, including the impact of COVID-19, and, specifically, in 20 core countries and subregions. It presents our estimates and forecasts provided to 2025 for the market for teleradiology reading services (reading volumes, revenues and revenue per read), teleradiology IT and the competitive environment (from a reading service provider and IT vendor perspective) in each of the 20 countries and subregions mentioned above.
About the author: Arun Gill is a senior market analyst with Signify Research, an independent supplier of market intelligence and consultancy to the global healthcare technology industry.
Back to HCB News