por
John W. Mitchell
, Senior Correspondent | February 09, 2021
From the January/February 2021 issue of HealthCare Business News magazine
"During the COVID crisis, we have continued outreach calls and expanded more longitudinally to follow patients post-discharge for 14 days to understand what their experience has been, where the opportunities are for us to improve our transitions to care, where there are gaps in the community (ability to receive medications, transportation back to facilities, inability to engage on virtual visit)," said Roshell-Stacks.
She stressed that analytics is at the root of a culture of the best care for all patients, not just COVID-19 patients.
In our August issue, Dr. Ed Sabanegh, president of the Main Campus and Regional Hospital System for Cleveland Clinic, said hospital administrators need to be prepared to make permanent changes in the aftermath of COVID-19. This includes "to work relentlessly" to render care to patients in their homes.
"We need to continue to learn how to stay connected as a team in this new world," he said. "All of these things are growing in importance as we adapt to this hybrid of inpatient, outpatient, and home healthcare."
A laser-focus on patients has consistently helped Cleveland Clinic rank among the country's top hospitals. Sabanegh sees increased demand for behavioral health and chronic diseases as two of the fastest accelerating areas of patient need in medicine. For Sabanegh, an engineering student turned Air Force physician and urology surgeon, healthcare leadership is a calling.
"I became fascinated with the privilege to help people, seeing medicine as a crossroad between science and humanity," he said.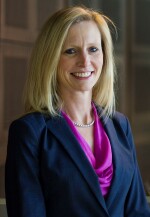 New hospital, new services and better outcomes
With the focus on COVID-19, it's easy to overlook that some hospitals were opening new campuses and expanding services. In a project first envisioned more than a decade ago, Kris Gose, president of the University of Oklahoma Medical Center (OU Health) relied on her insight as a former pediatric nurse and chief nursing officer to oversee the design of its new patient tower.