por
John R. Fischer
, Senior Reporter | July 15, 2019
From the July 2019 issue of HealthCare Business News magazine
"It has to be conveyed to them in a certain way. We're now required to not only inform physicians, but also, the patients of their breast density. Hopefully this prompts, whether it's with the radiologist, the primary care doctor or gynecologist ordering it, a discussion of the patient's risk factors, one of which is breast density," he said. "It certainly will encourage them to continue getting annual mammograms and determine if other screening modalities in addition to mammography are necessary."

Midmark Workstations are made to order with customization that can assist with the integration of telehealth and other technology at the point of care, wherever that may be. See more>>>

Additional testing required
If asked five years ago what the standard of care for breast cancer detection is, almost every radiologist would have answered 2D mammography. Today, however, that answer is 3D mammo, also known as tomosynthesis, which can detect more and smaller cancers.
But as with 2D, dense tissue can mask the presence of cancers during tomosynthesis scans, prompting the need for more thorough tests, such as breast MR and automated breast ultrasound. Access to these exams is hindered by insurance providers who do not cover them, as well as the policies of those who do.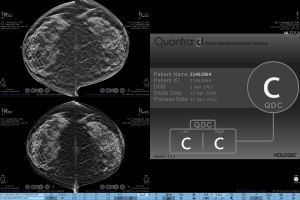 "Even when you say we have dense breast tissue coverage, that doesn't mean anything when your deductibles and copays are so high. You may never get insurance to pay," said Cappello. "Many families have deductibles of $6,000-$8,000. If a person can't afford it, they're not going to get an ultrasound for a dense breast screening. Many states have coverage. Some are good, and some are not."
Dr. Gillian Newstead, director of global breast imaging and a former professor of radiology in the department of radiology at the University of Chicago, says this obstacle has pushed many efforts for greater access, including the establishment of abbreviated MR, a technique for lessening breast MR exams from 15-45 minutes to less than 10 minutes.
"I think for screening, a shortened MR will be the future, will be easier for the patient and will be much less expensive," she said. "There are many sites around the country now where they are using MR screening in an abbreviated format for much smaller costs that are probably similar to that of ultrasound or maybe a little more but not anything like the high cost of MR that we've seen in the past."