So far, we have collected some 150 acquisitions, over two thirds of them in the hospitals. We plan to continue these validation trial for some months ahead, thus continuing collecting useful information on efficiency and usability.
In detail, according to the clinical protocol of this ongoing trial, voluntary patients undergo mammography and then DeHCA L&S examination; the two results are compared and, in case of positive diagnosis in at least one exam, results are further checked against biopsy.
Story Continues Below Advertisement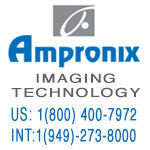 Special-Pricing Available on Medical Displays, Patient Monitors, Recorders, Printers, Media, Ultrasound Machines, and Cameras.This includes Top Brands such as SONY, BARCO, NDS, NEC, LG, EDAN, EIZO, ELO, FSN, PANASONIC, MITSUBISHI, OLYMPUS, & WIDE.

In parallel to the clinical evaluation, we are carrying out a survey on usability and comfort asking both patients and clinicians. This activity is giving us useful hints that will result in look&feel improvements.
Back to HCB News
| | | | |
| --- | --- | --- | --- |
| << | Pages: 1 - 2 - 3 - 4 | | |